It has been almost a month since I got home from Alt Summit, and it has taken me this long to recover! So many talented people to meet, so much knowledge to absorb, so many parties to attend! As you know, Lexy from The Proper Pinwheel and I threw one heck of a bash to start things off–The Hello Social. It went off without a hitch, and to call it a smashing success is almost putting it lightly. Those of you who were able to attend know how fantastic it was! For those that couldn't make it, here's a little recap, Instagram style!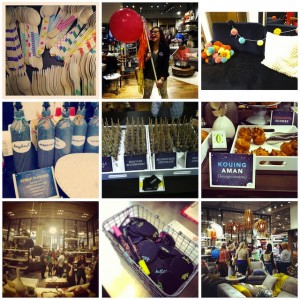 Everything about the Hello Social was amazing, from the food to the decor to the lovely space at West Elm!
Left to Right, Top to Bottom: gorgeous wooden utensils courtesy of Sucre Shop; one of many enormous party balloons, complete with fringy tassles, from Geronimo Balloons; pom pom garland by me; flavored syrups for the hot chocolate bar; Vanilla Mint, Bolivian Bittersweet, Belgian Milk Chocolate, and Spiced Ginger Hot Chocolate Sticks from The Ticket Kitchen; pastries from Les Madeleines; the West Elm at City Creek, looking stunning; chalkboard name tags from Lexy; the crowded-and-gorgeous West Elm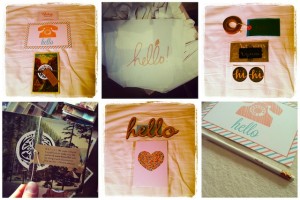 Every party-goer got an awesome swag bag stuffed with cool items from our sponsors!
Left to Right, Top to Bottom: discount cards from Vintage Confections, a darling letterpressed print from Foxtrot Press, and a vintage postcard from Sarah Fritzler; Hello totes from Whimsy Bags; washi tape from Wishy Washi Tape, passes to The Vintage Whites Market next month, and Hi stickers from Em Dash Paper Co (formerly Sparrow Nest Script); Sarah's postcards; wooden Hello sign from Say Hello and heart print from Caravan Shoppe; Foxtrot Press print and Hello pencil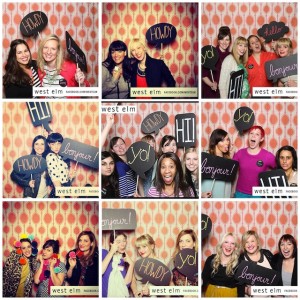 Smilebooth played a huge part at Alt Summit; they were at some cool party or some groovy lounge snapping fun photos for three straight days. And we were thrilled that they kicked off their Alt Summit 2013 experience with a stop at the Hello Social! You can see all of the Hello Social Smilebooth photos on West Elm City Creek's Facebook page.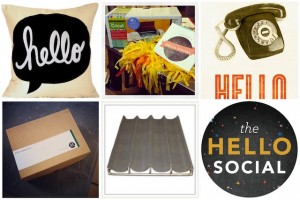 What's a party without door prizes?? We had some truly generous sponsors give away incredible prizes to a few lucky party-goers!
Left to Right, Top to Bottom: Hello pillow cover from Michelle Dwight Designs; 1 of 3 Cricut Machines from Provo Craft; an 8×10 Hello Print from Amy Sullivan; a few luxury DIY surprise boxes from For the Makers; a baguette pan from The Little French Bakery; (not pictured: limited edition totes from West Elm Salt Lake City, and a Hello sweatshirt from yours truly)

We had a veritable army of ultra-talented graphic designers working with us on all of the digital and printed materials; we could not have pulled off such a fantastic event without their lovely work!
Left to Right: digital fliers and all coordinating materials by Sarah Fritzler; Big Thanks swag bag card by Sarah Khandjian; Party Starting Conversation Challenge card and temporary tattoos by Kristie Garner
– – – – –
A huge, huge, HUGE thank you to everyone we worked with on the Hello Social: our graphic designers, our sponsors, Smilebooth, and most of all, West Elm–they helped all of our crazy ideas come together in amazing ways!
See you all in 2014!