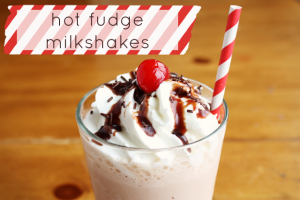 I have always really loved going to Disneyland. I grew up in Las Vegas, and we made annual pilgrimages to the magic kingdom; if we were really lucky, we went more than once in the same year. I love the rides and the atmosphere, the landscaping and faux architecture, and of course, the food. I have a mental checklist of foods I must eat while at the park, and I'll miss out on rides and make my family wait around on the crowded sidewalk just so I can get a Dole Whip float or teriyaki beef skewer. We took our little family to Disneyland last November over Thanksgiving break, and I discovered a new must-have treat: The Nob Hill Chill. I knew when I ordered it that it was going to be good: I figured the people at the Ghirardelli ice cream shop in California Adventure would know a thing or two about chocolate shakes. But this went above and beyond my expectations, and is hands-down the best, most delicious chocolate milkshake I've ever had!! And, with a little homemade hot fudge sauce, it's a breeze to recreate at home–the Happiest Place on Earth.
based on the Nob Hill Chill milkshake at the Disney Parks; hot fudge recipe adapted from Ghirardelli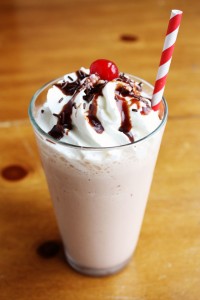 for the hot fudge sauce:
3 oz good quality 60% cacao chocolate (some say this is bittersweet, some say semisweet)
1 oz good quality milk chocolate
4 Tablespoons butter
1/2 cup water
1/4 cup corn syrup
1 1/2 cups sugar
1 teaspoon vanilla
a pinch of salt
for the milkshakes:
1.5-qt container vanilla ice cream (I used Breyers), slightly softened
about 1 cup hot fudge sauce
milk
chocolate jimmies, whipped cream, maraschino cherries, and more hot fudge sauce for garnish
To make the hot fudge sauce, combine chocolate, butter, water, corn syrup, and sugar in a medium, heavy-bottomed sauce pan over medium heat. Stir until smooth, then bring to a boil. Turn down heat and allow to boil gently for 10 minutes. Remove hot fudge sauce from heat, stir in vanilla and salt, and allow to cool to room temperature.
To make the milkshakes, combine softened ice cream and hot fudge sauce in a large bowl. Add about 1/2 cup milk, and beat with a hand mixer on low speed. Add more milk a little at a time until your milkshakes are the consistency that you like, either spoon-able or straw-able. Serves 4.
update: The above recipe for hot fudge sauce makes a lot, and you'll probably have leftovers that need to be stored in the fridge. This will make the sugar re-crystalize and will make your leftover hot fudge sauce gritty. It still tastes good, but if you'd like to smooth it back out before using it, put the hot fudge sauce in a saucepan and heat it over medium-low, whisking, until it is no longer gritty!