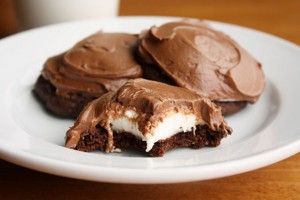 We have a really delicious cookie bakery in town called, creatively enough, Cookies Cookies. They make the best cookies, the kind that are as big as your hand and perfectly chewy: sugar cookies covered in sweet, white frosting and colored sprinkles, cinnamon and sugar snickerdoodles, oatmeal raisin, and soft, frosted gingersnaps. But our favorite kind of cookie is the Chocolate Surprise Cookie, a rich, chocolate cookie whose delicious fudge frosting is hiding a luscious, gooey marshmallow underneath. I finally figured out how to make them at home, so we can eat them whenever we want to! You can find the full recipe and more photos on my latest post for Best Friends For Frosting!
– – – – –
And in other parts of the world wide web, my sweet and talented friend Joy featured me in the Bright Lights series on her lovely blog,
Frock Files
. Ever wanted to know how I met my husband, or what kind of perfume I wear? Wonder no more! Head over to
Frock Files
and check out the interview!