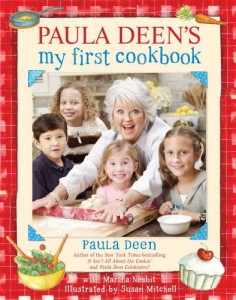 When I was growing up, Santa brought me and each of my siblings (and my mom) a new cookbook each Christmas. Now that I'm a mom, it is a tradition I plan on continuing with my own children. My oldest got her first cookbook last Christmas, Paula Deen's My First Cookbook. She loves it, and so do I! We've made at least half of the recipes from this adorable cookbook, and they've been pretty darn good. There aren't any recipe photos, which I usually think is the death knell for a cookbook, but every page is covered with adorable illustrations by Susan Mitchell.
Good Things:
-A cute, illustrated glossary at the beginning introduces the young chef to some basic cooking terms, as well as measuring and cooking techniques.
-There's a "How to Set a Table" diagram and instructions. Call me old-fashioned, but I think knowing how to set a table properly is important. I always notice when a table has been set incorrectly!
-Each recipe has a whole 2-page spread: the left side has an illustrated list of tools and ingredients, and the right side has the recipe.
-At any point during a recipe where an adult's help is needed, it specifically says, "You may need an adult to help you with this." I love that.
-The recipes are easy and tasty. My favorite recipe so far? Cheese Eggs with Onions and Ham. Not complicated, right? You'd think it just tasted like eggs, but seriously, they were the best eggs I've ever had!
-The recipes are clearly geared towards kids, and most of the steps can be done by a child without any help from a grown-up. Not all children's cookbooks are like this, by the way!
Bad Things:
-This is a typical Paula Deen cookbook, so there's no effort to make the food really healthy or anything. Butter, marshmallows, cheese, etc.
-A lot of the recipes use refrigerated biscuit dough, crescent roll dough, etc. If that is a deal-breaker for you, you could always go the homemade route.
Overall: I love this cookbook, and up until we got the Disney Magic Kitchen Cookbook, it was my daughter's favorite too. The food has been delicious and the recipes are easy. We fully intend to cook our way through the entire book!
Sausage Quiche
from Paula Deen's My First Cookbook
I grew up eating the most delicious quiche in the world, my mom's quiche. I think it is really hard to beat. That being said, this sausage quiche was delicious and easy. It was rich and flavorful. And it only has five ingredients! By the way, I'm leaving out all of the "have your adult helper" phrases to keep things brief.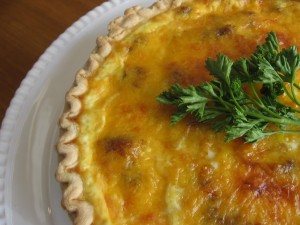 1 lb mild bulk sausage
1 8-inch deep-dish pie crust in an aluminum plate
2 cups grated sharp cheddar (we used medium)
3 eggs
1 1/2 cups half-and-half
Preheat oven to 350 degrees. Saute sausage in a skillet over medium heat, breaking it up with a spoon as it cooks. Cook until no pink remains, about 10 minutes. Drain the fat, and spread the sausage in the bottom of the prepared pie crust. Sprinkle the cheese over the sausage. Break the eggs into a bowl, pour in the half-and-half, and beat them together with a whisk. Pour the mixture over the cheese. Put the quiche on a cookie sheet and put it in the oven. Bake the quiche for 35 to 40 minutes, until the center is not jiggly. Take the quiche out of the oven. Let it sit for about 15 minutes before cutting.