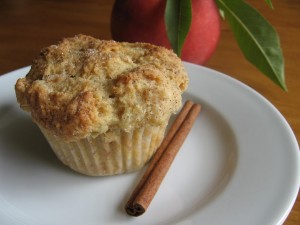 I've been so torn this week between summer and fall. I know we're still in the last days of August. School hasn't even started here yet, and the days still get hot once the clouds burn off. But the mornings and evenings are chilly, and we had rain yesterday morning, and I was excited about it! So I feel like these peach muffins are my parting gift from a summer that has come and gone so quickly.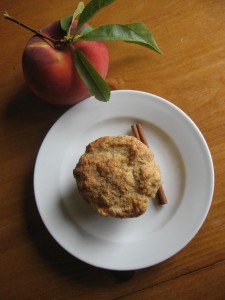 I've been excited to make these muffins for quite a while now, and they completely lived up to the expectations I set for them. I like jumbo, muffin-shaped cakes that masquerades as breakfast as much as the next person, but I loved that these muffins weren't overly sweet. And I like spongy, artificially flavor baked goods from a box-mix quite a bit, but I loved that these muffins had some heft while still being light. I would have liked more peach flavor, but that is my only complaint. My entire family loved them. We will definitely make them again, and when we eat them, we will be reminded of summer.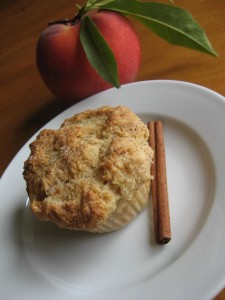 This week's recipe from The Sweet Melissa Baking Book was chosen by JoVonn of The Givens Chronicles. You can find the recipe on her blog, or by clicking here.