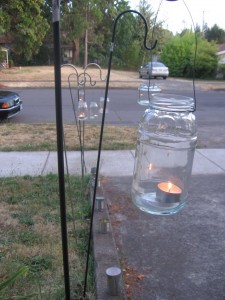 Our second dinner club get-together was hosted by our friends Dave and Marcelle, who chose the theme "Summer Favorites." It was another fantastic meal with lovely surroundings, lively conversation, and great food.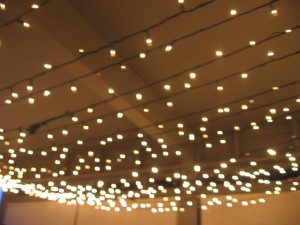 The Menu
If any of my friends ever get around to posting their recipes, I will link to them.
crackers, dates, apples, pears, grapes and various local cheeses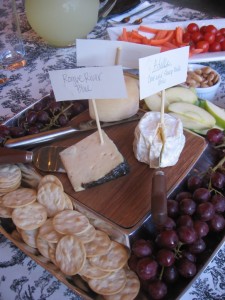 crostini with green chilies and monterey jack cheese melted on top
veggies and spinach dip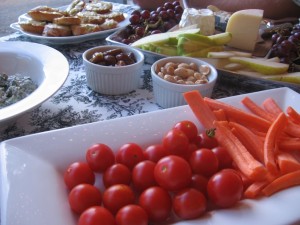 marcona almonds, fried and salted (very, very delicious)
marinated black bean, corn, and shrimp salad
fresh corn on the cob (picked that morning)
ratatouille so delicious I think we all got the recipe and made it again during the week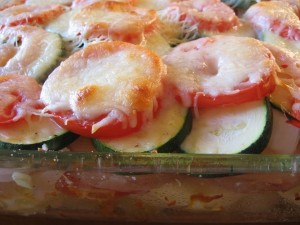 BLT's
homemade ginger beer (puts hair on your chest!)
peach cobbler (see recipe below)
brown sugar vanilla ice cream made with liquid nitrogen (really awesome!)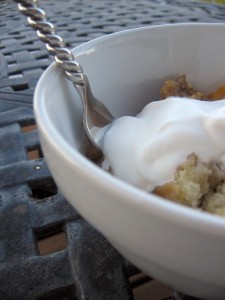 Price's Best Peach Cobbler You Ever Had
from Yankee Magazine, July/August 2005
The recipe for this cobbler seems really long and involved, and it is, but in my opinion, it is well worth the effort! The weekend of dinner club this month was really hectic, so I made the biscuit dough and crumble topping the night before. I can't recommend it enough; it made putting the cobbler together a snap!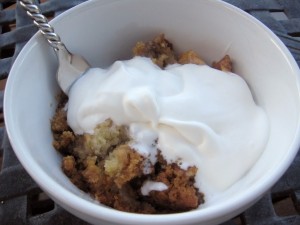 for the buttermilk cobbler dough:
1 1/2 cups cake flour
1 1/2 cups all-purpose flour
1 teaspoon kosher salt
1 Tablespoon baking powder
1 teaspoon baking soda
1/2 cup white sugar
1/2 cup unsalted cold butter
1 1/3 cups buttermilk
for the crumb topping:
1 1/4 cups all-purpose flour, divided
1/2 teaspoon kosher slat
1/8 teaspoon baking powder
1 1/4 cups brown sugar
1/4 cup white sugar
3/4 cup unsalted butter, softened and cut into small pieces
cinnamon
for the cobbler filling:
8 ripe peaches
2 Tablespoons all-purpose flour
4 Tablespoons sugar
2 teaspoons Kirsch
2 teaspoons lemon juice
Begin by making the cobbler dough. In a medium bowl, toss together the dry ingredients. Add butter and cut in with a fork or pastry cutter until mixture has a sandy consistency. Add buttermilk and mix until just combined. Do not overmix. Transfer the dough to the refrigerator and chill 30 minutes. The dough can be made up to 2 days ahead and kept, well-covered, in the fridge. Meanwhile, make the crumb topping. In the bowl of an electric mixer, combine 1 cup flour with the other dry ingredients. Add butter and mix on low until the dough comes together, about 2 minutes. Add the remaining 1/4 cup flour a bit at a time and mix just until dough has a crumble consistency (you may need less flour). Transfer the topping to the refrigerator and chill until firm. The topping can be made several days ahead and kept, well-covered, in the fridge. Preheat oven to 325 degrees. Cut unpeeled peaches in half, remove the pits, then cut into 1/2-inch slices. Place in a bowl and sprinkle with flour. Add sugar, Kirsch, and lemon juice. Mix well and taste. Depending on the flavor of the peaches, you may need to add more lemon juice or a little more sugar. To assemble, generously butter a round 14-inch ceramic baking dish or a 10-inch Dutch oven. Press the cobbler dough into the bottom of the dish, setting a small amount aside. Layer the peach filling over the dough. Dot with the remaining dough, then top with the crumb mixture. Sprinkle with cinnamon. Bake until the cobbler is well-browned and the peach juices have cooked off, about 45 minutes to 1 hour. Let cool and serve.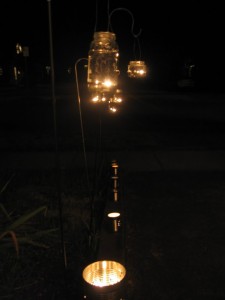 Thanks Dave and Marcelle for a great evening!!