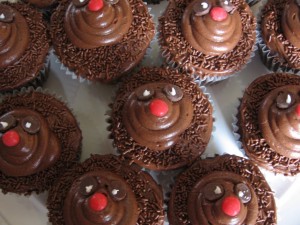 Our sweet little "hedgehog" just turned 1! To celebrate, we had a hedgehog party, complete with a life-size hedgehog cake for the birthday girl and hedgehog cupcakes for the party guests. Since I made them, I knew exactly what they were supposed to look like, but they could very easily be made into any number of other critters. They were easy and delicious! Here's how I did it: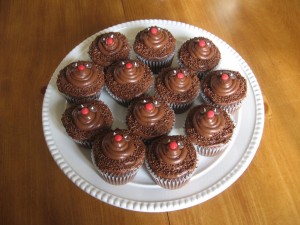 Materials:
1 recipe of your favorite cake baked as cupcakes (I used a Butter Recipe Chocolate Fudge cake mix.)
2 recipes of your favorite frosting (I doubled the recipe for chocolate frosting from the Hershey's Cocoa can, but added less cocoa powder than it called for.)
48 chocolate chips
24 red hot candies
a very small amount of white frosting (I just used canned frosting, since it was hardly any. White gel frosting would probably work too.)
Chocolate sprinkles
toothpick
pastry bag and plain circle tip
Frost all of the cupcakes as you normally would.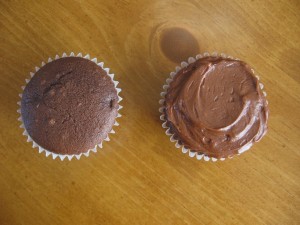 Immediately sprinkle the tops generously with chocolate sprinkles.
Using a pastry bag fitted with a plain circle tip, pipe a big blob of frosting onto the center of each cupcake. Leave about 1/2″ of chocolate sprinkle-covered cupcake showing all the way around.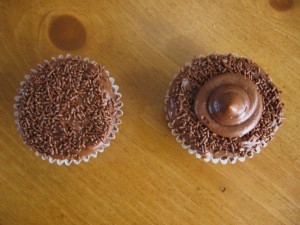 Gently press a red hot candy in the center of each cupcake, making the nose.
Gently press 2 chocolate chips into the frosting just above the nose to make the eyes. Make sure the chocolate chips are upside down so that that flat bottom of the chocolate chips are facing up.
Using a toothpick, put a small dot of white frosting on each chocolate chip.