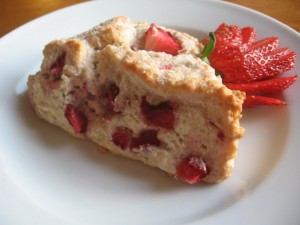 I like to read cooking blogs. Like, really like to read cooking blogs. But only if the pictures are good. Because you can't taste someones food by reading their blog. The only thing you have to go on is the photos. And if the food looks bad, no matter how amazing it is in real life, it just doesn't look appetizing. One blog I like to browse that has amazing food photos is The Food Librarian. She had a post up for a few days about Lemon Cornmeal Cake, and I was totally going to make it because I had a bunch of strawberries and lemons that needed using, and because it looked so lovely. And then I made the mistake (sweet, heavenly mistake) of scrolling down and seeing pictures of Strawberry Scones. And she got the recipe from another blog with mouthwatering photos, Confessions of a Tart. I took one look at her beautiful photos and HAD to make the scones. They were as beautiful in person as they looked in the pictures. And tasty too!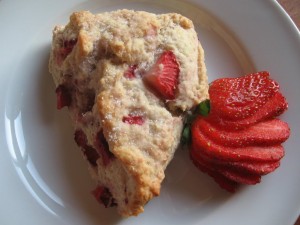 1 cup strawberries, washed, hulled, and diced
3 Tablespoons granulated sugar, plus some for sprinkling
2 cups flour
2 teaspoons baking powder
1/4 teaspoon salt
6 Tablespoons butter, slightly softened, cubed
2/3 cup cream
Preheat oven to 400 degrees. Lightly grease a cookie sheet. Sprinkle fruit with 1/2 Tablespoon sugar, set aside. Combine remaining 2 1/2 Tablespoons sugar with flour, baking powder and salt. Add butter, using a pastry cutter or your fingers to mix it in. Stir in fruit, then add cream. Use a spatula to gently stir dough until it holds together. Turn dough onto a lightly floured surface and knead a few times to incorporate dry ingredients. Sprinkle with flour if it gets too sticky. Pat teh dough into a 3/4 inch-thick circle and cut into 6-8 wedges. Transfer wedges to a cookie sheet, leaving at least 1/2 inch of space between them. Bake 15 minutes. Sprinkle tops with granulated sugar, than bake 5-10 more minutes until tops begin to brown and spring back when pushed.