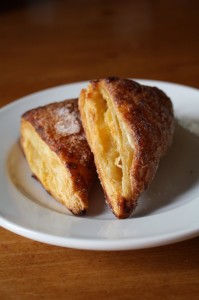 This week's recipe for SMS was such a winner!! I don't even like ricotta cheese, but I ate 4 of these babies! The recipe makes (I'm guessing) 4 enormous turnovers, but I wanted to take mine to bookclub, so I doubled the recipe and cut two pastry sheets into 9 squares each. However, I hit a little problem. According to the recipe, you need a 12″ square of puff pastry dough. When I took mine out of the box, I wasn't sure how big it was, but it looked like 12″, so I forged ahead. As I was filling and folding the turnovers, however, all the delicious filling started bursting out the sides, and I began to wonder if I was mistaken with the whole size thing. I got my measuring tape out of the drawer 6 inches away from where I was working, and sure enough, the puff pastry was only 9″ to begin with, so my turnovers were a full inch too short a piece! It actually turned out okay, but only after I scraped the filling off the pastry, heavily floured each square, and rolled them to the correct size. I was beginning to grumble, but then I tasted a finished turnover and they were HEAVEN! Get the cookbook and make these!!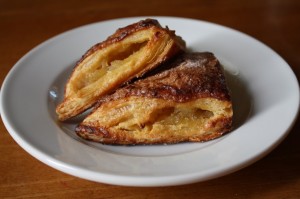 My tips:
Make the ricotta cream filling and the apples ahead of time. They can both be stored for up to three days in the refrigerator, and it will make putting these together a snap!
Don't brush the egg wash on all 4 sides of each pastry. Just brush it on 2. Otherwise, things get very slippery and nothing will stay shut.
After you've pinched each pastry shut, pick it up gently and pinch the edges shut AGAIN. Most of mine didn't actually stay shut the first time, but when I picked them up and tried again, presto! Pinched edges!
Don't bake them for 45 minutes! Watch them carefully, and when they look good to you, take them out of that oven. Neither of my batches baked for 45 minutes, but the ones that went for 40 minutes were a little darker than I would have liked.
The recipe was chosen by Tracey of Tracey's Culinary Adventures. Check out her blog for the recipe, and click here to see how the other Sweet Melissa bakers fared.