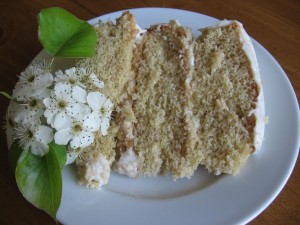 I'm not a tea drinker, so I was curious as to how this month's cake would turn out. I even considered skipping it! But then people started to say it was their favorite cake so far, and who can argue with that?! It basically turned out like a really good spice cake, but spicier, if that makes any sense. You steep some chai tea bags in milk, add that liquid to the cake batter, and then add cinnamon and cardamom as well. I liked that you didn't have to whip any egg whites. That was a nice change of pace. My cake was a little dry, but other bakers said theirs were nice and moist, so maybe it was just me. 🙂 My only beef with this cake was the frosting. It is a cream cheese frosting with fresh ginger and honey added. It tasted amazing, but was too thin for my liking. According to the directions, you drizzle the frosting over the cake and let it drip down like icicles, but that produced a VERY ugly cake!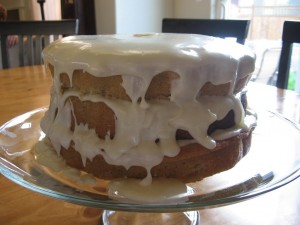 If I make the cake again, I'll just make the frosting thicker and spread it on like regular old frosting.
Chai Cake with Honey-Ginger Cream
from Sky High: Irresistible Triple Layer Cakes by Alisa Huntsman and Peter Wynne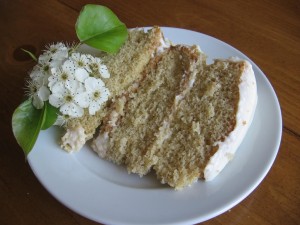 1 1/3 cups milk
6 chai tea bags
4 whole eggs
2 egg yolks
2 teaspoons vanilla
2 3/4 cups cake flour
2 cups sugar
4 1/2 teaspoons baking powder
3/4 teaspoon cinnamon
1/2 teaspoon cardamom
1/2 teaspoon salt
8 oz unsalted butter at room temperature
Preheat oven to 350 degrees. Grease bottom and sides of three 8″ round cake pans, put parchment paper in the bottom, and grease the parchment paper. [I was sick of cutting out parchment circles, so I skipped that part.] In a small saucepan, bring milk to a simmer of medium-low heat. Add tea bags and let steep for 5 minutes. Remove tea bags and squeeze out the milk. Let chai milk cool completely. In a small bowl, whisk together eggs, yolks, vanilla, and 1/3 cup chai milk. Combine all dry ingredients in the bowl of an electric mixer using low speed for 30 seconds. Add the butter and reserved chai milk; beat on medium until light and fluffy. Add egg mixture in three additions, scraping the sides of the bowl after each addition. Divide batter evenly among three prepared pans. Bake for 26-28 minutes until a toothpick stuck in the center of one of the cakes comes out clean. Let cakes cool in pans for 10 minutes, then turn upside down and remove parchment paper. Let cool completely before frosting.
Honey-Ginger Cream:
2 1/2 cups powdered sugar
6 oz cream cheese at room temperature
6 Tablespoons unsalted butter at room temperature
1/2 cup liquid honey
1/2 teaspoon freshly grated ginger
Place all ingredients in a food processor and pulse until smooth. To assemble cake, place one cake flat-side down on a plate. Spread 2/3 cup icing on top a smooth to edges. Repeat with another layer. Place the last layer on top and pour remaining icing over it, letting it drizzle down the sides like icicles. [I would make thicker frosting and just spread it on.]