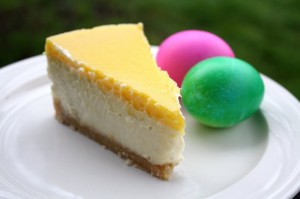 Daring Bakers first: The April 2009 challenge is hosted by Jenny from Jenny Bakes. She has chosen Abbey's Infamous Cheesecake as the challenge.
I was really excited by this month's challenge. We were given a basic cheesecake recipe and allowed to do whatever we wanted to it. I decided to make my cheesecake for dessert on Easter, so I wanted something Springy. And what's more Springy than lemon?! I added a baked lemon curd layer to the top, added lots of lemon zest and juice to the cheesecake batter, and substituted shortbread cookie crumbs for the graham cracker crumbs in the crust. It was a huge hit! My cheesecake was very silky instead of being dry and crumbly like some cheesecakes. I will make this again and again!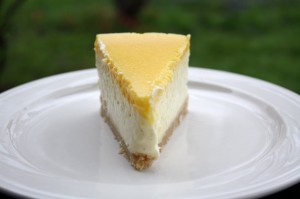 Triple Lemon Cheesecake
adapted from Abbey's Infamous Cheesecake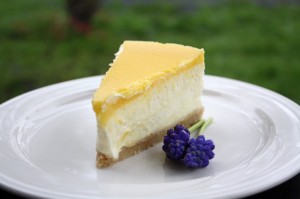 crust:
2 cups Keebler Sandies Simply Shortbread crumbs
1 stick butter, melted (I would probably cut down the butter next time, although the crust was delicious; the cookies are so buttery already that I don't think you need all the extra butter)
2 Tablespoons sugar
1 teaspoon vanilla extract
Mix together and press into the bottom of a 9″ springform pan. Make sure the outside of the pan is well-sealed with foil. Set crust aside.
cheesecake:
3 sticks cream cheese, 8 oz each, at room temperature
1 cup sugar
3 large eggs
1 cup heavy cream
3 Tablespoons fresh lemon juice
1 Tablespoon lemon zest
1 vanilla bean
1 recipe lemon curd (recipe follows)
Preheat oven to 350 degrees. Begin to boil a large pot of water for the water bath. Combine cream cheese and sugar in the bowl of an electric mixer until smooth. Add eggs, one at a time, fully incorporating each before adding the next. Make sure to scrape down teh bowl between each egg. Add cream, lemon juice and zest, and the insides of the vanilla bean and blend until smooth. Pour batter into prepared crust and tap pan gently on counter to remove any air bubbles. Place pan inside another larger pan and place in oven. Carefully pour water into the larger pan (don't get any in your cheesecake!) until water comes up the sides of the springform pan about halfway. Bake 45 to 55 minutes, until almost done. I baked mine for the full 55. Pour lemon curd over the top, spreading to edges. Close the oven door, turn the heat off, and let cheesecake rest in cooling oven for one hour. Remove cheesecake from oven carefully, let cool completely on counter, then refrigerate overnight.
lemon curd (from Sky High by Alisa Huntsman and Peter Wynne):
3 whole eggs
2 egg yolks
1/2 cup sugar
1/2 cup plus 1 Tablespoon fresh lemon juice
grated zest of three lemons
4 Tablespoon unsalted butter, at room temperature
Whisk together all ingredients except butter in a nonreactive saucepan. Gently heat mixture, whisking until it thickens enough to coat the back of a spoon. Pour the mixture through a fine mesh sieve into a heatproof bowl. Stir in the butter and cover the curd with plastic, making sure the plastic touches the surface of the curd. Refrigerate until cold or use immediately.
Now for Sweet Melissa Sundays: Sorry this post is a day late. We had quite the adventure this weekend, which you'll see in the photos below! This week's recipe was Granola Breakfast Cookies chosen by Jessica of A Singleton in the Kitchen, and it was pretty tasty. The recipe calls for homemade Cherry Almond Granola, but I just couldn't find the ingredients, so I used Cascadian Farm Organic Fruit and Nut Granola with cherries, almonds, pumpkin seeds, etc. The cookies are pretty healthy, with honey, molasses, whole wheat flour, and very little butter (6 Tablespoons is a little) and no extra sugar. When I bit into the first one, my first impression was, "Hmm. These must be healthy." But the more I ate them, the better they tasted. My husband and kids loved them, and best of all, I didn't feel at all guilty about eating any or giving any to the kids because they aren't chock full of sugar. And they travel well; just see for yourself.
Cookies' Big Day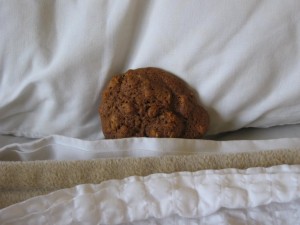 Cookie fell asleep in a gallon-sized ziplock and woke up in a comfy bed in a nice hotel in the Big City. Dreams do come true Cookie!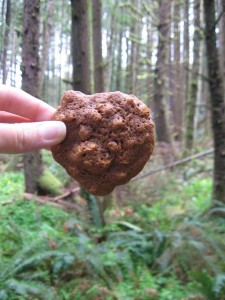 Cookie paused for a photo-op with some big trees, lush ferns, and giant clover in the state park. She took lots of pictures here, but someone cruelly pointed out that she looked a little like a piece of poop in most of them. I thought she just looked coy.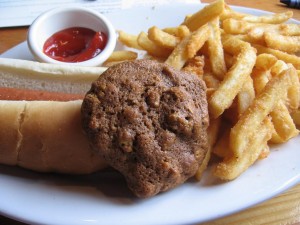 Cookie loved stopping for lunch at "The Lumberyard." She laughed and had a great time, but got suddenly nervous and uncomfortable when they brought out the food.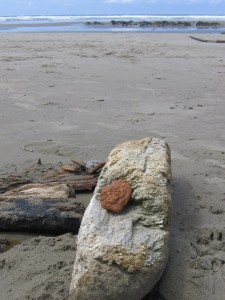 Cookie's favorite stop of the day was the beach at low tide. She lounged on some driftwood…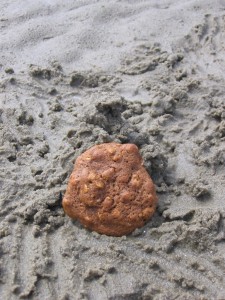 tried (unsuccessfully) to build a sandcastle…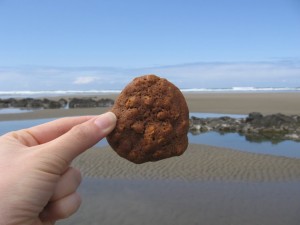 posed with the rocks and waves…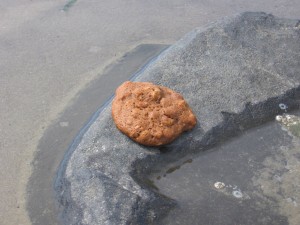 and looked for critters in tidepool (there weren't any).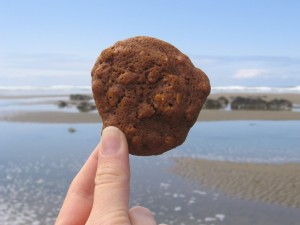 All-in-all, Cookie had a great trip to the beach!