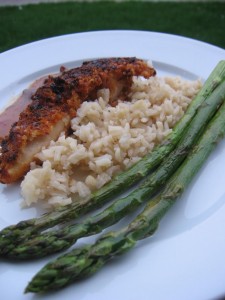 I was browsing my cookbook shelf the other day and came across this funny little magazine, Cuisine at Home, that I must have gotten in the mail at some point in the past. I must have kept it thinking I would make the cover recipe and then completely forgot about it. I am so glad I found that magazine and made that recipe! It really wasn't hard at all; just the typical flour/egg/bread crumb chicken recipe, but this one has garlic and sun-dried tomatoes mixed in with the bread crumbs and a tangy sun-dried tomato/butter/wine reduction sauce that I practically licked off the plate! And the chicken isn't really fried! You saute it in a tiny amount of oil on one side for 3 minutes, then pop it in the oven to finish it off! If you need a mid-week break from the casserole monotony (don't we all!), make this dish!!!
Sun-Dried Tomato Crusted Chicken with Sunny Butter Sauce
from Cuisine at Home magazine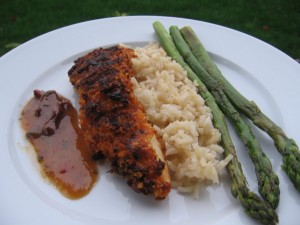 4 4-oz boneless, skinless chicken breasts (I used 1 lb of chicken tenders)
1 teaspoon black pepper
1/2 teaspoon kosher salt
2 cups bread crumbs (I made mine from 2-day-old french bread)
1/2 cup oil-packed sun-dried tomatoes, drained
4 large garlic cloves, peeled
1/2 cup flour
2 eggs
2 Tablespoons water
2 Tablespoon olive oil
Preheat oven to 375 degrees. Season chicken breasts with salt and pepper, and set aside. Combine bread crumbs, tomatoes, and garlic in the bowl of a food processor and pulse until combined. Transfer to a shallow dish. Place flour in another shallow dish, and combine eggs and water in a third shallow dish. Dredge both sides of each chicken breast in flour, then egg, then bread crumbs. Heat oil in an ovenproof nonstick skillet (I used my new grill pan for the first time!) over medium-high heat. Saute chicken for 3 minutes. Flip chicken, then place pan in oven and continue cooking for 8-10 minutes, until chicken is cooked through. Rest 5 minutes before serving.
Sunny Butter Sauce
My husband thought this was too tangy, but I LOVED it!
1 cup dry white wine
2 Tablespoons capers, crushed (didn't have, didn't use)
2 Tablespoons fresh lemon juice
1/2 cup cold, unsalted butter, thinly sliced
1/4 cup oil-packed sun-dried tomatoes, drained and sliced
1/2 cup fresh parsley, chopped (also didn't have; I just sprinkled dried parsley in until it looked present but not overwhelming!)
Boil wine in a skillet until reduced by half. Add capers and lemon juice and boil 1 minute more. I looked away for maybe 10 seconds at this point and when I turned around, I had almost no liquid left! Be careful!!! Reduce heat to low. Whisk in butter one piece at a time, stirring constantly. Stir in tomatoes and parsley and heat through. Serve over chicken.