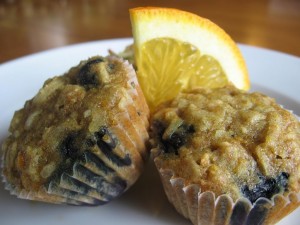 This month's book club selection was The Friday Night Knitting Club by Kate Jacobs. One of the characters–Dakota–likes to bake, and this recipe was included at the back of the book. When I was trying to decide what snack to take to book club, I kept going back to this recipe. Oatmeal, blueberries, oranges, coconut, honey. What's not to love? The muffins turned out great; sweet, wholesome, fragrant. They weren't the simplest muffins I've ever made, but they were delicious and I would make them again in a heartbeat.
Dakota's Oatmeal, Blueberry, and Orange Muffins
from The Friday Night Knitting Club by Kate Jacobs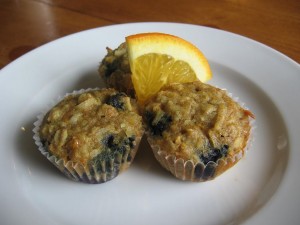 1 cup plain rolled oats
1 cup whole wheat flour
1 teaspoon baking powder
1 teaspoon baking soda
1 teaspoon salt
1 1/2 cups flaked sweetened coconut
grated rind of one large orange
1 egg
1/2 cup liquid pasteurized honey
3 Tablespoons oil
1 Tablespoon vinegar
juice 1 orange and add water to make 1 cup of liquid (I did 1 1/2 oranges because I didn't get a lot of juice out of mine)
1 to 1 1/4 cups fresh or frozen blueberries
Preheat oven to 350. Line a muffin tin with paper cups. combine the dry ingredients into a large mixing bowl; oats, flour, baking powder, baking soda, and salt. Add the coconut flakes and orange rind to the dry ingredients. Get a separate bowl and beat the egg. Then incorporate the wet ingredients: honey, oil, vinegar, juice, and water. Add teh wet ingredients to the dry mix and stir until just moist. Fold in the blueberries. Pour batter into muffin cups, being careful not to let any batter spill onto the tin. Bake in a preheated oven 20-25 minutes. Remove muffins from the pan and cool on a wire rack.