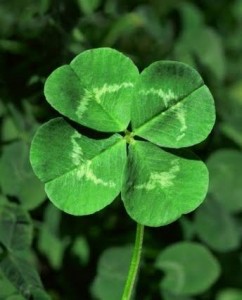 #1: I'm a sucker for tradition. I love doing the same things on the same days every year. Moreover, I love eating the same foods on the same days every year. #2: I'm not the most flexible person in the world. I'm the kind who likes to have a plan (and a list; I love making lists!) and stick to the plan, come hell or high water. Add those two facets of my personality together, and you get a person who just can't bear to try new things for a special occasion because she likes the old things so dang much!
Case in point: Every year, without fail, we have what we call an "Irish Fry" for dinner on St. Patty's Day. My uncle spent a few years in Ireland after high school, and (I don't really know how true this is) he told us that even more popular than Corned Beef and Cabbage is the Irish Fry. Fried eggs, breakfast sausage, hash browns, toasted english muffins, and baked beans. It is so good! And we only have it once a year, making it even more delicious. Granted, we eat the components of an Irish Fry all year, but only ALL TOGETHER on St. Patrick's Day.
Now, I like to cook, and I DO like to try new recipes, so Corned Beef and Cabbage sounds intriguing. But I already have a dinner for St. Patty's Day, and I refuse to change it. So what's a girl to do?! Solution: I'm making Corned Beef and Cabbage for Sunday dinner the weekend before St. Patrick's Day. I honestly don't know why I didn't think of it before; it's not exactly rocket science. I considered using the recipe for corned beef in this month's issue of Martha Stewart Living, but it takes two weeks. Clearly, there's not enough time for that, plus it scares me a little (two weeks!). America's Test Kitchen has a recipe that only takes 5 to 7 days, so I'm doing it! If you've never corned your own beef before and want to try it with me, here's what you do: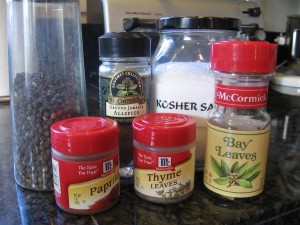 In a small bowl, combine 1/2 cup kosher salt, 1 Tablespoon cracked black peppercorns, 1 Tablespoon dried thyme, 2 teaspoons allspice, 2 teaspoons paprika, and 2 crumbled bay leaves. Take a 3 1/2 to 4 1/2-pound beef brisket and poke it about 30 times per side with something sharp. I used my corn on the cob holders. Rub the salt mixture all over both sides of the brisket. Put it in a big ziplock bag, get as much air out as you can, and seal it up. Place the bag on a cookie sheet, put another cookie sheet on top, and weigh it down with some big, heavy cans. I used the big cans of Libby's pumpkin. Put the whole contraption in the fridge and turn it once a day for 5 to 7 days. When the big day comes, rinse the meat, pat it dry, and cook according to whatever recipe you want.