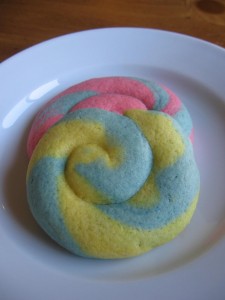 We had some extra little ones over for preschool this morning, and we learned all about rainbows. Not really anything scientific, mostly just fun with colors. Anyway, I found this recipe for cookie playdough and the kids loved it. I kept having to tell them not to eat it, and they kept commenting on how tasty it smelled! When they were tired of playing with it, we popped it in the oven and made some rather tasty cookies. If you're in the mood to play with your food, or if you just want to make some easy, colorful cookies, I highly recommend this recipe! And if you need a preschool lesson on rainbows, or want to do some fun color crafts with little ones, click here to see what else we did with our day!
Rainbow Cookie Playdough
adapted from Allrecipes here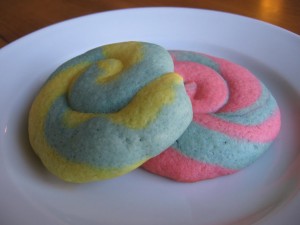 3/4 cup butter, softened
3 oz cream cheese, softened
1 cup sugar
1 egg
1 teaspoon vanilla
2 3/4 cups flour
1 teaspoon baking powder
1/4 teaspoon salt
food coloring
In a bowl, cream butter, cream cheese, and sugar until fluffy. Add egg and vanilla; beat until smooth. In a medium bowl combine flour, baking powder, and salt. Add dry ingredients to the creamed mixture. Stir until soft dough forms. Divide dough into balls, one for each color, and tint each with food coloring. Wrap in plastic wrap and chill for 2 hours. After your tots are done playing with the dough and you are ready to bake the cookies, preheat the oven to 350 degrees. You should be able to get 24 cookies out of this. My preschool kids shaped their own creations, and I used the rest of the dough to make slightly more appetizing cookies. Place cookies several inches apart on a lightly greased baking sheet. Bake for 8-10 minutes until cookies are set. Cool completely. While we ate them all plain, they would probably taste pretty good with some frosting!