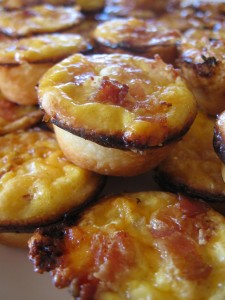 My mom has been making this recipe for as long as I can remember. I didn't like quiche when I was little, but at some point, it went from detestable to divine. I really, really love good quiche. This recipe is the standard to which I compare all others. A light, flaky, flavorful crust and a filling that's savory and delicious, with just enough egg to hold it all together. I could (and do) eat these all day long; they are really perfect for any meal. When my husband and I were first married, he said he hated quiche. So I made these "Cheesy Bacon Pies" for dinner and he was converted. Of course I told him the truth eventually, and he's been a fan ever since.
This recipe makes 12 mini quiche using a standard 12-cup muffin tin. I also like to make mini mini quiche, in which case the recipe makes 36 mini mini's.
Crust:
3 oz cream cheese, softened
1/2 cup butter, softened
1 cup flour
pinch salt
Filling:
4 eggs
1 12-oz can evaporated milk
1/2 lb bacon, cooked, drained, and crumbled
1 cup shredded cheddar
1/4 cup onion, chopped fine
3/4 teaspoon salt
1/4 teaspoon sugar
dash pepper
To make the crust, blend cream cheese, butter, flour, and salt well. Dough will be soft. Divide into 12 balls. Pat into ungreased muffin tins, covering the bottom and up the sides of each cup. Set aside.
Place even amounts of bacon, onion, and cheese in prepared crust. Beat eggs; add milk, salt, sugar, and pepper and mix well. Pour egg mixture into crust on top of bacon, etc. Bake at 350 degrees for 45 minutes. Let cool slightly before serving.