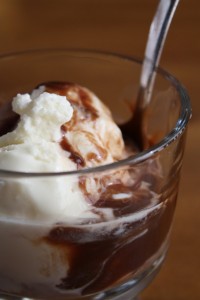 As I've stated before, being out of town all summer has seriously cut into my cooking group participation. But when I saw the recipe for July's Daring Bakers Challenge, Swiss Swirl Ice Cream Cake, I figured it would be easy and my family would love it. So I gathered my ingredients one day between trips and got started. I made delicious vanilla and chocolate ice creams from scratch without my trusty ice cream freezer (I had forgotten to put the bowls in the freezer), and really, really delicious hot fudge sauce that I ate quite a bit of with a spoon. Things hit a rough patch when I realized I had no parchment paper with which to line my cake pan. No big deal; you can use waxed paper in a pinch. Ruh-roh, as Scooby would say. No waxed paper either. What to do? The ice cream is in the freezer, the hot fudge is cooling, the cake batter is made. Surely you can cut up a brown paper grocery bag, grease the heck out of it, and use that, right? Doesn't that seem like it would work? Sadly, it was a hot cake mess. So I scrapped the Swiss Swirl Ice Cream Cake idea and we had spectacular ice cream sundaes, complete with fresh whipped cream, homemade hot fudge sauce, and sliced bananas. The chocolate ice cream, in particular, was amazing. Somehow, 3 simple ingredients combined to form a smooth, rich, fudgy chocolate ice cream. I was sad that I didn't make more of it. Luckily, we still have a few weeks of ice cream season left!
Chocolate Ice Cream
2 cups heavy cream
1 cup sugar
3 Tablespoons cocoa powder
Whisk all ingredients in a small sauce pan until well-combined. Heat until bubbles form along edges. Remove from heat and allow to cool before freezing. Freeze according to ice cream freezer manufacturer's instructions. Or, put the mixture in a freezer safe bowl and freeze. Stir every 30 minutes or so for the first 2 hours, then allow to freeze completely.
Hot Fudge Sauce
1 cup sugar
3 Tablespoons cocoa powder
2 Tablespoons cornstarch
1 1/2 cups water
1 Tablespoon butter
1 teaspoon vanilla
Combine sugar, cocoa powder, cornstarch, and water in a small saucepan. Heat, stirring constantly, until thickened. Remove from heat and add butter and vanilla. Stir to combine.