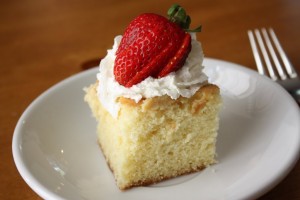 I completely forgot to post this on the 20th! Luckily that was just yesterday, so I'm not too far off. I made this cake a few weeks ago when we had company in town, and it was very well-received. For anyone unfamiliar with Tres Leches Cake–although that's hard to imagine–you start with a white cake, poke holes all over the top, and pour a sweet, three-milk sauce over the top and let it soak in. I'm not a fan of soggy cakes, so I only used about half of the sauce, but it still turned out wonderfully moist and flavorful. I loved the addition of lime zest to the top of the cake; it gave it a zippy, tropical punch of flavor. This cake was another easy winner from Southern Cakes by Nancie McDermott, and one that I will definitely be making again!
Johnny C's Tres Leches Cake
from Southern Cakes by Nancie McDermott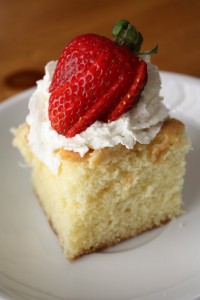 for the cake:
3 cups flour
1 Tablespoon plus 1 teaspoon baking powder
1 cup butter, softened
2 cups sugar
4 eggs
1 cup milk
Preheat the oven to 350 degrees. Combine flour and baking powder in a medium bowl. In a large bowl, beat the butter and sugar at high speed until well-mixed. Add the eggs one at a time, mixing after each addition. Add 1/3 of the flour mixture and beat at low speed until the flour just disappears. Do the same for 1/2 of the milk. Repeat with flour, milk, and more flour. Pour batter into a greased 9×13″ pan and bake for 35 to 40 minutes, until the cake is golden and begins to pull away from the sides of the pan.
for the three-milk sauce:
1 1/2 cups milk
1/2 cup sweetened condensed milk
1 12-oz can evaporated milk
1 Tablespoon fresh lime zest
While the cake is baking, combine the three milks in a saucepan. Heat gently over medium heat, stirring often, until mixture is smooth and steaming.
When the cake comes out of the oven, allow it to cool for 10 minutes, then sprinkle with lime zest. Using a toothpick, poke holes in the top of the cake every inch or so. Working in batches, pour the hot sauce over the warm cake. Allow one batch of sauce to soak in before adding the next batch. Add as much or as little as you like. As I said, I only used half of the sauce. Let stand at room temperature for one hour, then cover and refrigerate. Allow cake to come to room temperature before serving. Serve with fresh whipped cream.