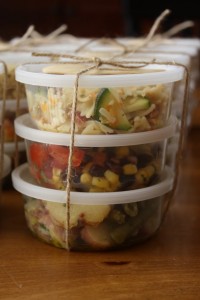 With school starting again and the days getting noticeably shorter, summer is definitely coming to an end. But we have a few weeks of sunshine and warm weather left before fall officially begins. Here are three of our family's favorite picnic salads from our short summer season. Use the last of your garden bounty to make these delicious recipes, and savor that last little bit of summer!
Black Bean and Corn Salad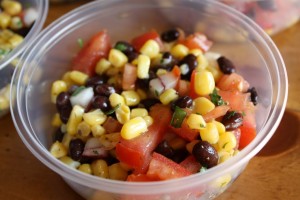 2 teaspoons seasoned pepper
2 1/2 teaspoons seasoned salt
2 lemons, juiced
1/4 cup olive oil
1 can black beans, rinsed and drained
1 16-oz bag frozen corn, thawed and drained
2-3 small tomatoes, diced
1 small red onion, diced
fresh cilantro, chopped
Combine seasoned pepper and salt, lemon juice, and olive oil in a small bowl. Whisk until well combined. In a large bowl, combine black beans, corn, tomatoes, onion, and cilantro. Pour dressing over and toss to coat. Serves 6.
Marinated Green Bean and Potato Salad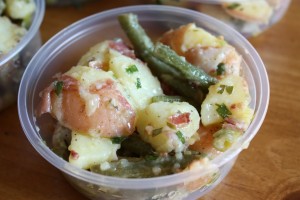 1 lb green beans, trimmed
2 lbs baby red potatoes, quartered
2 Tablespoons white wine
2 Tablespoons chicken stock
3 Tablespoons champagne vinegar
1/2 teaspoon dijon mustard
1/2 teaspoon salt
1/4 teaspoon freshly ground black pepper
10 Tablespoon olive oil
1 1/2 teaspoons minced garlic (about 3 cloves)
1/4 cup minced scallions
2 Tablespoons chopped fresh tarragon
2 Tablespoons chopped fresh italian parsley
4 slices bacon, cooked and crumbled
Place potatoes in a large pot and cover with cold water. Bring to a boil and cook potatoes until just tender. While potatoes are cooking, bring a medium-sized pot of water to boil and add green beans. Let green beans cook for 5 minutes. Using a slotted spoon, transfer beans to a bowl filled with ice water. Set aside. When potatoes are done, pour them into a colander and cover with a clean dish towel. Let steam for 10 minutes. Put potatoes in a large bowl, add wine and chicken stock, and toss. In a small bowl, whisk together vinegar, mustard, salt, pepper, olive oil, and garlic. Pour dressing over potatoes. Add scallions, tarragon, parsley, bacon, and cooled green beans. Toss well. Serve warm; serves 8.
Italian-Style Pasta Salad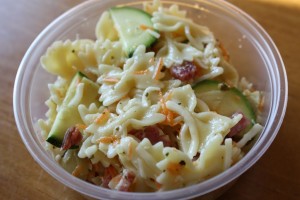 Click
HERE
for the recipe.