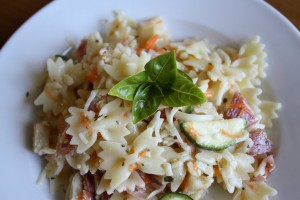 To enter the Smart Spice Give-Away, click HERE.
This makes three zucchini recipes in a row; I do believe someone has a bumper crop of zucchini in her garden this summer! This is my favorite pasta salad. Its unique flavors and bright colors make it delicious and beautiful. What more could you ask for?
Italian-Style Pasta Salad
adapted from "Cooking from the Coast to the Cascades", a cookbook from the Junior League of Eugene, OR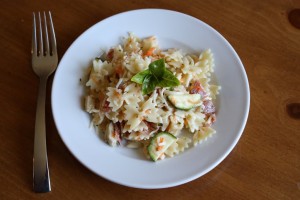 6 oz pasta, cooked, drained, and cooled–The recipe calls for spaghetti or vermicelli, but I always use mini bowties
1 6-oz jar marinated artichoke hearts
1 small zucchini, halved or quartered and sliced
1 large carrot, peeled and shredded
4 ounces salami, diced
1 cup shredded mozzarella cheese
2 Tablespoons shredded parmesan cheese
2 Tablespoons olive oil
2 Tablespoons white wine vinegar
3/4 teaspoon dry mustard
1/2 teaspoon Smart Spice Oregano
1/2 teaspoon Smart Spice Basil
1 garlic clove, minced
Drain artichokes, reserving marinade. Chop artichokes, and combine with pasta, zucchini, carrot, salami, and cheeses. In a small bowl, whisk reserved marinade with remaining ingredients. Pour dressing over pasta and toss to coat. Cover and chill before serving.