The give-away is now closed, and the winner will be announced soon! Thanks for participating!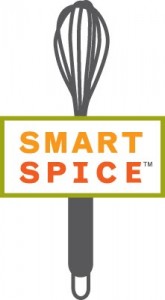 My funny, thoughtful brother is always sending me links to kitchen things he thinks are cool. Sometimes it is a recipe or a picture (like the cookie monster cupcakes he sent last month or the hamburger cookies he sent last year) and some are products (like the one-size-fits-all bowl covers he sent me a few weeks ago). Back in May, he heard about some spices that sounded interesting and shot me a quick email about them. After clicking on the link he provided and reading the product description, I knew he'd found a real winner. Smart Spice by The Seasoned Palate, Inc. produces revolutionary, organic herbs and spices packaged in pre-measured, 1-teaspoon packets that are sealed and foil-lined to keep in freshness and flavor.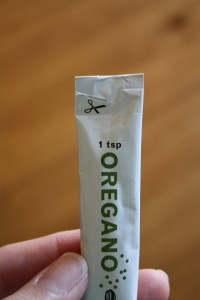 Most of us have probably never taken a moment to do a quick spice-rack inspection, but if you have, you've undoubtedly noticed that your spices have an expiration date printed on the container. If you're anything like me, those dates are long passed, especially when it comes to spices that don't get used often. The scary thing is, those spices probably lost their freshness and potency even before the expiration date! The clear plastic bottles spices are usually housed in let in light, air, and moisture, the three enemies of freshness. Smart Spice combats these enemies by individually packaging 1-teaspoon portions. So you can use that 1 teaspoon of oregano your recipe calls for, and the rest of your oregano stays safely packed away in tightly sealed packets.
I've been nothing but impressed with my Smart Spice products from the moment I opened my shipping box. The packaging is cute, the colors are earthy, the spices are organic and look and smell amazing. And I love their texture. Take the cinnamon (cassia), for example: unlike the completely pulverized-to-dust version I'm used to, my Smart Spice cinnamon looked as though someone had ground it with a mortar and pestle! It added the most wonderful, flecked appearance to the carrot cake in which it was used, and made me feel like I was using something special, instead of just something a big machine in a big factory cranked out.
Katie and Sara, the minds behind Smart Spice, are GENEROUSLY offering one lucky person an entire 16-spice set of Smart Spice products–that's a value of almost $50! If you're the winner, you prize will include
Basil
Cardamom
Chile Pepper
Cinnamon
Coriander
Cumin
Curry Powder
Ginger
Herbes de Provence
Italian Seasoning
Nutmeg
Oregano
Paprika
Rosemary
Thyme
& True Cinnamon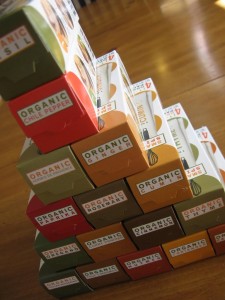 To enter, simpy leave a comment telling me what your favorite thing about Smart Spice is. Is it the convenient, pre-measured pouches? The freshness factor? The organic-ness? Visit Smart Spice on Facebook, "Like" them, and you can get 5 extra entries!! Just leave me one additional comment letting me know you've done it. Please include your email address in all comments so I can contact you if you win. This give-away will be open for one solid week. On Monday, August 9th, I'll put all of the comments in a bowl and draw a winner!
For the rest of the week, I'll be posting a recipe each day featuring at least one Smart Spice product. There will be everything from cakes to casseroles. See you tomorrow!!