A quick, exciting announcement…Starting tomorrow (Monday, August 2nd), I'll be having an amazing give-away for everyone: I'll be giving away one entire, 16-box set of pre-measured, vacuum-sealed organic spices from Smart Spice! These spices are fresh and flavorful, and come in the cutest 1-teaspoon pouches for super easy use. Check back tomorrow for my product review and the chance to enter. And I'll be posting recipes all week that use the spices you'll receive if you're the lucky winner. See you tomorrow!!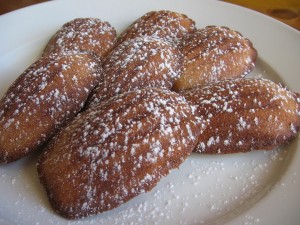 I feel like we've been out of town for the entire summer, but we are finally back for good. Since I did not have the chance to make this week's recipe from The Sweet Melissa Baking Book, I decided to post a past recipe that I was a little behind on and then completely forgot to post: Chestnut Honey Madeleines. This was my first experience with madeleines ever. I've never made or eaten them, but they've always sounded tasty; I'm not a tea drinker, but for some reason any food associated with tea time–finger sandwiches, strawberries and cream, tiny cookies–sounds delicious. And despite their dark edges (it was the pans fault I tell you!) they did not let me down. They had a light, cakey texture and pleasant sweetness. They reminded me of homemade donuts for some bizarre reason. I'm encouraged now to foray into other madeleine recipes and can't wait to enjoy the results!!
Thanks to Debbie of Cafe Chibita for choosing this recipe way back when. You can find the recipe on her blog HERE.