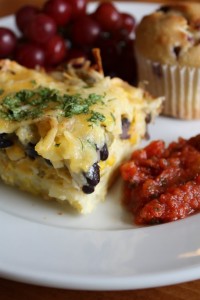 Like a lot of people, for the past year or so, we've been observing Meatless Monday. Every Monday night–although we sometimes have to bump it to Tuesday or Wednesday–we have a meatless entree for dinner. At first, I thought it was a "no sweat" kind of thing and that surely we had enough tried and trues that were already meatless. Pasta, pizza, breakfast favorites…but we quickly ran out of ideas and I realized that I was going to have to actually look for meatless recipes. So I'm always on the look-out for a good vegetarian meal. Imagine my surprise when I found one hiding in a weird little free cookbook my mom grabbed at the supermarket! With black beans, cheese, hashbrowns, and eggs, it sounded like something everyone in the family would love. And they did! This was a definite crowd-pleaser, and one that will now be thrown into our regular Meatless Monday rotation.
Southwestern Hashbrown Bake
1 20-oz bag frozen hashbrowns, thawed
1 can black beans, drained and rinsed
1 can corn, drained
1 can diced green chilis, drained
8 large eggs
1/2 cup milk
2 cups shredded monterey jack cheese
salt and pepper
3 Tablespoons chopped fresh cilantro
Spray a 9×13″ pan and preheat the oven to 350. Spread half of the hashbrowns in the bottom of the pan. Top with black beans, corn, green chilis, and 1 cup of cheese. Top with remaining hashbrowns. In a medium bowl, combine milk and eggs, and pour over casserole. Sprinkle generously with salt and pepper. Bake for 45 minutes until top is golden and the center is set. Top with remaining 1 cup of cheese and bake 5 minutes more. Remove from oven and let sit for 5 minutes before slicing. Top with cilantro. Serve with salsa.