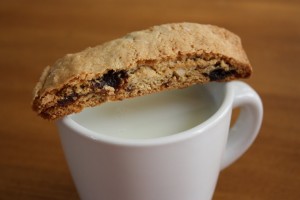 I have to apologize for my long absence from this space. Our computer has been pretty diseased for several months now, and it finally did the unforgivable a few weeks ago: it would not let us access the internet. So on Wednesday, I finally backed up all of our important files and returned it to its factory settings. Now let's just keep our fingers crossed that it can avoid contracting any deadly viruses the second time around!
I consider myself a soft, chewy cookie devotee; I always prefer underbaked cookies to overbaked ones. But I do enjoy a good, crunchy biscotti dipped in ice-cold milk now and then. Or several times a day for a week straight, as was the case with this delicious recipe from The Sweet Melissa Baking Book. I doubled the deliciousness so that I could share them with friends, but I only gave away 10 and ate the rest pretty much single-handedly! Sure, the kids ate a few, but the rest was all me. And once you try them, you won't blame me. A smooth, pleasant vanilla crunch surrounding tart, ever-so-slightly chewy dried cherries and tasty bits of almonds. Truly addicting!
Thanks to Tracey of Made by Tray Tray for choosing this fantastic recipe, which she has graciously posted on her blog HERE.