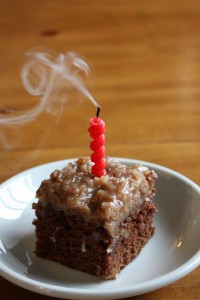 I think my poor husband is often the victim of culinary imposition. I like something, so I assume he likes it too. Or he mentions that he likes something, and I love it, so I assume he really means that he loves it. We've had a few occasions where I discover in the middle of dinner that he doesn't particularly like what we're eating, and it will be something that I've made every week for years. All because I don't ask. Last year, I made my husband a Chocolate Malt Cake for his birthday because I thought he'd love it, and I'm pretty sure I made him Texas Sheet Cake for about 4 years in a row before that, because I love it and he's never said otherwise! This year, I decided to do something totally crazy and actually ask my husband what kind of cake he wanted. And all he wanted was German Chocolate Cake!
German Chocolate Cakes started making appearances back in the 1950's after Sam German created a mild, sweet baking bar for Baker's Chocolate company. After scouting cookbooks and the internet for a decent recipe and finding only "So-and-so's interpretation of a German Chocolate Cake," I decided to go to the source: Baker's Chocolate. The Baker's website has a few different "Original German Chocolate Cake" recipes, which is kind of funny. I have a thing against whipping egg whites, and a thing against layer cakes, so I opted for the plain old 9×13″ version with frosting slathered on top, served right from the pan. Cakes made from scratch are so often not-great–they're either dry, dense, short, or bland–that even though I've made oodles of good cakes from scratch, I still expect bad results when I try a new recipe. This one shattered those fears once and for all! It was tall (like almost spilling out of the pan tall), chocolatey, and moist. It tasted better than a box mix and was almost as easy to prepare.
You can find the recipe for German's Sweet Chocolate Cake HERE, as well as the recipe for Coconut-Pecan Frosting, which is a treat all by itself.
*****
We're hosting a fantastic giveaway over at Max and Ellie. CSNstores.com is offering one lucky reader a $60 gift certificate to any of their online stores. They have pretty much anything you can think of, including amazing cookware and my favorite, Le Creuset items, which happen to be on sale right now! Click HERE to enter the giveaway!