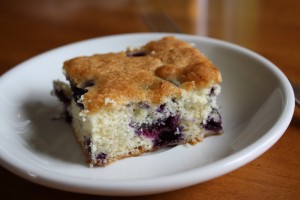 The old adage of never judging a book by its cover applies perfectly to this delicious cake. An unassuming cake studded with blueberries doesn't sound very exciting (especially if you are used to eating box-mix blueberry muffins), and it doesn't look very exciting either (as evidenced by the rather boring photo above). But beneath the surprisingly flaky crust lies one of the best breakfast cakes I've ever eaten! Fresh blueberries and a simple butter cake batter combine to produce a cake that is moist and tender, with the perfect amount of wholesome sweetness. Many breakfast cakes, with their piles of streusel and crumble toppings, lean heavily toward the dessert category, but this blueberry breakfast cake was truly amazing unadorned. Thank you Southern Cakes for another hit!!
To read other bakers' experiences with blueberry cake, visit the blogroll HERE.
Shenandoah Valley Blueberry Cake
from Southern Cakes by Nancie McDermott
1 2/3 cups flour
1 1/2 teaspoon baking powder
1/4 teaspoon salt
1/3 cup butter, softened
3/4 cup plus 2 Tablespoons sugar
1 egg
1/3 cup milk
1 cup fresh blueberries
Preheat oven to 375 degrees and grease a 9″ square or round baking pan. Combine flour, baking powder, and salt in a small bowl. In a medium bowl, cream butter and sugar. Add the egg and beat well until the mixture is smooth, 1-2 minutes. Stir in half the flour mixture, then half the milk, mixing just until combined. Repeat. Gently fold in blueberries. Spread batter in prepared pan and bake for 30 minutes until cake is golden and a toothpick inserted in the center comes out clean. Serve warm straight from the pan.