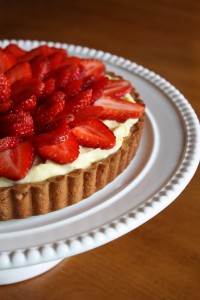 A few years ago, a friend who had moved away came back into town to visit for a few days. A bunch of us girls got together and had dinner at a little cafe downtown, and most of us ordered an amazing strawberry tart that was in the dessert window at the counter. I've been dreaming of strawberry tarts ever since! Inspired by that delicious concoction–as well as the giant strawberry tart on a billboard we pass along the highway every day–I decided to finally try my hand at making one from scratch.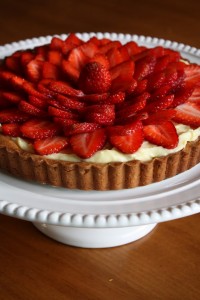 My husband inherited lots of old issues of Cook's Illustrated from his grandma, and the July/August 2001 edition has a whole article on fresh fruit tarts. Since you pretty much can't go wrong with a Cook's Illustrated recipe, I decided to base my tart on theirs with only a few small changes. I used the crust and pastry cream from the recipe, and the results were wonderful. I overcooked the pastry cream just a little–although you couldn't tell AT ALL in the finished product–and I overbaked the crust just a tad, but otherwise, they were both stellar. One of the changes I made was lining the inside of the crust with semi-sweet chocolate after it baked. I knew we would never be able to finish the whole tart in one sitting, and I didn't want the crust to get soggy. The thin layer of chocolate kept it wonderfully crisp for a whopping 24 hours, and it was incredibly easy to do. When the crust was finished baking, I just sprinkled 1/2 cup of semi-sweet chocolate chips inside, popped it back in the oven for 1 minute, and then spread the melted chocolate over the bottom of the crust with the back of a spoon. My other change came at the very end. A lot of strawberry tarts have whole strawberries all over the top, but that seems like it would be hard to cut and hard to eat. A whole strawberry is a mouthful all by itself, and a tart has pastry cream and crust in each bite too! So I sliced the strawberries instead. There was still plenty of strawberry flavor in each bite, and the tart was easy to cut and serve. I also skipped the glazing step at the end. I just didn't want to shellac my beautiful, fresh-looking tart!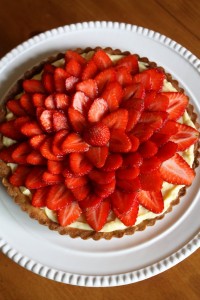 The verdict: while I was downstairs cleaning up, my husband and kids were upstairs eating dessert and watching Superman II, and I heard a very clear, very loud, "Wow!"
Fresh Strawberry Tart
adapted from a recipe in the July/August 2001 issue of Cook's Illustrated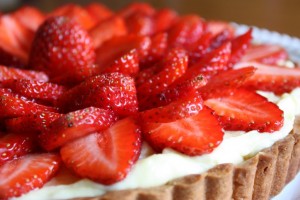 for the pastry cream:
2 cups half-and-half
6 Tablespoons plus 2 Tablespoons sugar
a pinch of salt
5 egg yolks with all of the stringy white parts picked off
3 Tablespoons cornstarch
4 Tablespoons cold, unsalted butter, cut into chunks
1 1/2 teaspoons vanilla
Combine half-and-half, 6 Tablespoons sugar, and salt in a medium saucepan. Heat over medium, stirring frequently, until it comes to a gentle simmer. Meanwhile, in a medium heat-proof bowl, combine egg yolks, remaining 2 Tablespoons sugar, and cornstarch until thickened, about 30 seconds. When half-and-half has come to a simmer, slowly and steadily whisk half-and-half into eggs, then return mixture to saucepan. Heat over medium, stirring constantly, until thickened. This will not take more than a few minutes, so watch out! Remove from heat and add butter and vanilla. Stir completely. Place a piece of plastic wrap right on the surface of the pastry cream and refrigerate until cold and set.
for the crust:
1 large egg yolk
1 Tablespoon heavy cream
1/2 teaspoon vanilla
1 1/4 cups flour
2/3 cup powdered sugar
1/4 teaspoon salt
8 Tablespoons cold, unsalted butter, cut into chunks
1/2 cup semisweet chocolate chips
Whisk egg yolk, cream, and vanilla together in a small bowl; set aside. In the bowl of a food processor, pulse flour, powdered sugar, and salt until combined. Add butter and pulse until mixture resembles coarse meal. With food processor running, add egg mixture and process just until dough comes together in a ball. Wrap dough in plastic wrap and refrigerate 1 hour. Roll chilled dough out into a 13″ circle between sheets of floured parchment. Carefully transfer dough to a tart pan, pressing dough into the bottom and up the sides of the pan. Trim the excess dough. If this completely fails, as it did when I made it, scrape the dough off the parchment, try not to eat it all, and press it into the pan like you would a graham cracker crust. Freeze for 30 minutes. Preheat the oven to 375 degrees. Line your frozen crust with a sheet of tinfoil and weigh it down with pie weights. Bake for 30 minutes. Remove foil and pie weights and bake 5 minutes more. Sprinkle 1/2 cup chocolate chips across the bottom of the crust, return to oven for 1 minute, then spread melted chocolate with a spatula or spoon. Refrigerate until chocolate is set.
putting it all together:
Wash, trim, and slice 1 pint of strawberries. Spread chilled pastry cream over chocolate in crust, then top with strawberry slices. Than eat it all up because it is sooooo good!