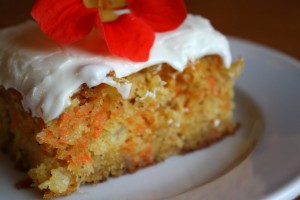 To enter the Smart Spice Give-Away, click HERE.
I mentioned yesterday how much I love the Cinnamon from Smart Spice. It has such a beautiful texture. It was perfect in this chunky carrot cake studded with bits of carrot and pineapple.
Carrot Cake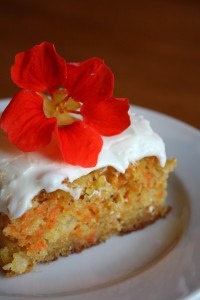 2 cups flour
1 teaspoon baking soda
1 teaspoon baking powder
1 teaspoon Smart Spice Cinnamon
2 cups sugar
a pinch of salt
1 cup oil
4 eggs
3 cups grated carrot
1 cup crushed pineapple, drained
Combine flour, baking soda, baking powder, cinnamon, sugar, and salt in a large bowl. Add oil and blend. Add eggs one at a time, beating after each addition. Add carrots and pineapple and mix well. Spread batter in a greased 9×13″ baking pan, and bake at 350 degrees for 45 minutes. Allow cake to cool completely before frosting.
Cream Cheese Frosting
1 brick cream cheese, softened
6 Tablespoons butter, softened
1 lb. powdered sugar
1 teaspoon vanilla
Beat cream cheese and butter until smooth. Add powdered sugar and vanilla, and beat until smooth and fluffy.