To enter the Smart Spice Give-Away, click HERE.
Last summer, some friends of ours hosted a "Summer Favorites" evening for dinner club. We ate corn on the cob, BLT's, shrimp salad, peach cobbler with homemade vanilla ice cream, and the most delicious vegetable casserole I've ever had–Ratatouille. With it's delectable layers of summer garden fare–tomatoes, potatoes, onions, and zucchini–it captures these long, warm days in every bite.
from our dear friends, Marcelle and Dave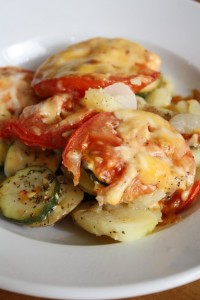 1/2 lb waxy, thin-skinned potatoes such as reds or yukon golds
1 yellow onion, sliced into 1/4″-thick rings
2-3 small zucchini (or summer squash, or a mix of both), sliced into 1/4″-thick rounds
2 big tomatoes, sliced into 1/4″-thick rounds
olive oil
1 teaspoon Smart Spice Herbes de Provence or Italian Seasoning
salt
pepper
2 cups shredded cheese (I usually use whatever we have on hand, which is always cheddar and mozzarella)
Place the potatoes in a large pot, fill with cold water, and bring to a boil. Cook potatoes until they are just tender. Drain and let cool. When potatoes are cool enough to handle, slice into 1/4″-thick rounds, removing the peels as you go. Preheat the oven to 350 degrees and grease a 9×13″ pan with non-stick cooking spray. Scatter the onion rings evenly over the bottom of the pan. Top with potatoes; lightly season with salt and pepper. Next, add a layer of zucchini. Drizzle the zucchini layer with olive oil, and sprinkle with the Smart Spice seasoning blend of your choice. Top the zucchini with a layer of tomatoes; season with salt and pepper. Sprinkle the shredded cheese evenly over the top of the tomatoes. Place the casserole in the oven and bake for 45 minutes, until all vegetables are tender. If the cheese begins to brown, lay a piece of aluminum foil over the top for the remainder of the baking time.