I have three fantastic projects for you today! With the Holidays just around the corner, life is about to get a little busy. My motto, especially for the next two months, is keep it simple! All of these projects are quick, easy, and look (or taste) fantastic, and all of them are perfect for the upcoming Holiday season.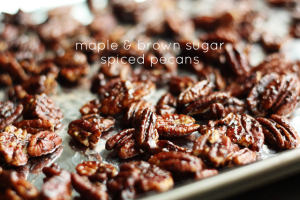 The first project is a truly delicious recipe that is perfect for any and every Holiday party on your calendar this year: Maple & Brown Sugar Spiced Pecans. I seriously couldn't stop eating them when I made them; I almost didn't have enough left to take pictures of! These little beauties are completely irresistible, and would make great favors to give to Thanksgiving dinner guests, the perfect addition to a Holiday appetizer spread, or a thoughtful party hostess gift. They'd even be great tossed into a fresh harvest salad or paired with some yummy brie on a cheese board! They only take a few minutes to make and are the perfect combination of sweet, spicy, and salty. You can find the complete recipe on
my latest Made Monday post for Rue Rococo
.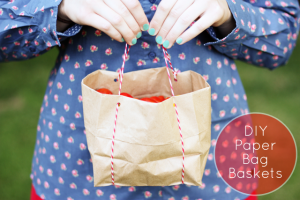 I've been waiting for months to share this next project with you: DIY Paper Bag Baskets! They're made from regular old brown paper lunch bags and string. That's it! They're so simple, but they're also adorable and super sturdy. They'd be so cute filled with fresh pumpkin cookies or a couple of mini bottles of sparkling cider or your grandma's favorite homemade peanut brittle. By changing the color of the string (or yarn or ribbon or twine), you can make them match any season or theme. You can find the full instructions on
my post for Health Beauty Life magazine
. If you make one, I'd love to know what you put inside!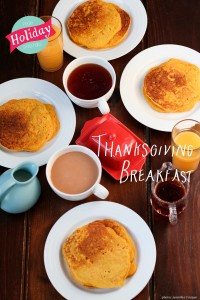 And the final part of today's post is this week's Fresh Holiday Traditions idea from Jennifer of Classic Play: Pumpkin Pancakes for Thanksgiving Breakfast! You can find the recipe, plus some sweet Thanksgiving morning traditions to start with your own family, on Classic Play. If you missed last week's post, Gratitude Journals, it's not too late to start. Click here to see the directions on how to get started. And be sure to tune in next Wednesday for another sweet and simple Fresh Holiday Tradition!