One of the things that most bloggers gush about is the amazingness of the blogging community. And with good reason! It is full of lovely, intelligent, supportive people. And the creativity and go-getter spirit are through the roof! So many bloggers have one fascinating side-project or another going on at any given time: conferences, workshops, party-planning, web design, writing books, making movies. Here's a short list of some of the truly wonderful and creative blogger side projects going on right now that I think you should check out…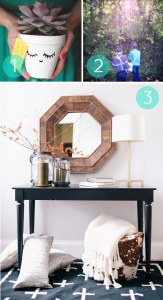 1.
Make Your Day: DIY, All Day Long
ebook by Chelsey Andrews of
The Paper Mama
& Chelsea Costa of
Lovely Indeed
Two reigning queens of DIY have teamed up to create an adorable ebook full of the most darling home DIY projects. Clocks, cups, canisters, cocktail shakers, and more. All of the projects are sweet, easy, and super stylish. And the ebook, which has 150 pages, 20 projects, hand-drawn illustrations, and tons of bonus material, is only $12! That'll make your day indeed!
2. Adventures in Learning with Jennifer Cooper of Classic Play
I've been lucky enough to get to team up with the uber-talented Jennifer Cooper from Classic Play on our Endless Summer Projects and Fresh Holiday Traditions series. This woman is a marvel, and her latest project is a family affair: Adventures in Learning, a series of sweet educational videos for PBS Parents starring the Cooper Family. Farmers' Market Math, Stargazing with Kids, and Learning About Trees are just a few of the adorable videos they've produced so far.
3. Grandiflora by Erin Souder of House of Earnest
House of Earnest is such a gorgeous blog. Erin shares beautiful DIY projects, chic party styling, and elegant home decor. Her
Friday Faves
column is one of my favorite weekend reads, and is always filled with absolutely beautiful finds. It's no wonder, then, that Erin is launching a truly stunning line of home decor products,
Grandiflora
, on Monday. I've been lucky enough to get just a peak at the beautiful pieces in her collection, and I cannot wait to see what else she has up her sleeve.
Do you know of any blogger side-projects we need to check out? Leave a comment and let us all know!