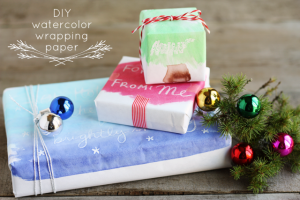 Sometimes, the things we learn as children are really, really good lessons that stick with us. Sometimes they're big lessons like being kind to others or eating your vegetables, and sometimes they're small lessons, like elementary school art techniques. Behold, the glorious art of wax resist painting, something you probably learned to do in Kindergarten! With just some plain paper, a white crayon, and a set of inexpensive watercolors, you can make really beautiful custom wrapping paper for the holidays. And the best part is, it's a holiday craft that is totally appropriate for all ages!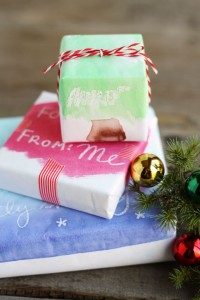 white kraft paper (I used Scotch brand banner & sign paper)
white crayon
watercolors
paint brush
water
1. Using the white crayon, draw designs, write messages, or otherwise decorate the white paper. If you look at it from the right angle, you'll be able to see what you're doing.
2. Paint over the white crayon with watercolors. The paper might wrinkle significantly as it gets wet, but it actually does a pretty good job of flattening itself out as it dries, so don't stress over it too much.
3. Allow the wrapping paper to dry completely before using.