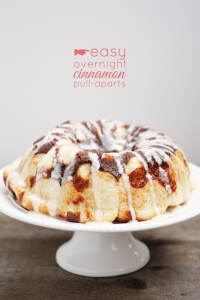 I love cinnamon rolls, but I'm pretty sure I love sleeping in a lot more. If I can find a method of making cinnamon rolls that doesn't require me to wake up at the crack of dawn, I call that success! These truly scrumptious pull-aparts (aka, monkey bread) take about 5 minutes to put together the night before, then most of the magic happens while you're asleep. All you have to do the next morning is pop them in the oven and mix up some sweet, cream cheese glaze while they bake! Sleeping in
AND
getting warm, gooey cinnamon treats for breakfast? A dream come true!
Easy Overnight Cinnamon Pull-Aparts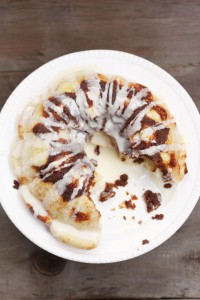 for the pull-aparts:
20 frozen dinner roll raw dough balls (like Rhode's Rolls)
1/2 cup brown sugar
1/2 of a small box of instant butterscotch pudding
2 teaspoons cinnamon*
1/2 cup butter, melted
for the cream cheese glaze:
1 cup powdered sugar
2 Tablespoons cream cheese, softened
a pinch of salt
a splash of vanilla
milk
To make the pull-aparts, grease a standard-sized bundt pan with nonstick cooking spray. Place the frozen rolls in the bottom of the bundt pan, evenly space. Combine the brown sugar, dry butterscotch pudding, and cinnamon in a small bowl. (*When I made these the most recent time, I ran out of cinnamon. I ended up using 1 1/2 teaspoons cinnamon and 1/2 teaspoon homemade pumpkin pie spice, and they were amazing! Just a little FYI.) Sprinkle the brown sugar/spice mixture evenly over the frozen dough in the pan. Drizzle evenly with melted butter, cover with plastic wrap, and set on the counter to rise overnight, about 8 hours. After the pull-aparts have risen, preheat the oven to 350°F. If you are using a dark pan, remember to decrease the baking temperature by 25°F. Remove plastic wrap from pull-aparts, place pan in oven, and bake for 25 minutes, until golden on the top. Remove from oven and allow to cool 5 minutes, then flip onto a serving platter, drizzle with glaze and serve warm.
While the pull-aparts are baking and cooling, make the glaze. Combine powdered sugar, cream cheese, salt, and vanilla in a small bown. Whisk until smooth. Add milk a very little bit at a time until the glaze is just thin enough to be drizzle-able. Drizzle over pull-aparts once they've been flipped onto a serving platter.