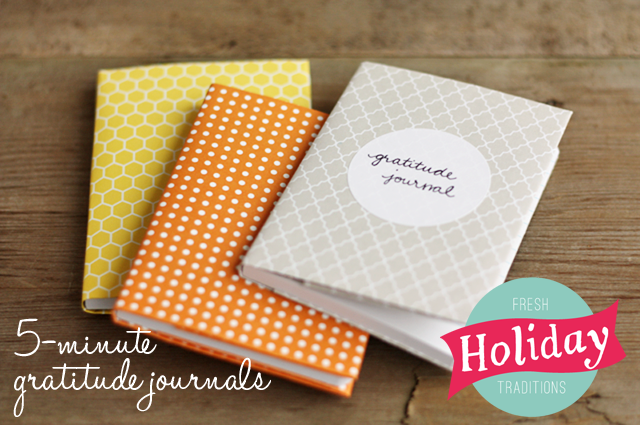 I'm teaming up with my Endless Summer Projects pals to bring you a wonderful DIY series for the Holiday season: Fresh Holiday Traditions. Over the next 8 weeks, we'll be posting projects that are simple, lovely, and all about celebration and togetherness. The Holidays don't need to be hectic and hurried; they can and should be a time to enjoy being with the ones you love. I can't wait for you to see what beautiful projects we have in store for you!
I'm excited to kick the series off with a simple project that is easy and beautiful, and one that will hopefully help your November to be a month of reflection and joy: Gratitude Journals! My sweet and ever-thoughtful friend, Marcelle, gave me a homemade gratitude journal a few years ago. She told me that if she spent just a few minutes at the end of each day reflecting on the things she was grateful for that day, she was happier and more grateful in general. It made her whole outlook more positive. And it helped her realize how very blessed she was. And I can honestly say that I found the same thing to be true as I steadfastly wrote in my own gratitude journal each night.
So for the entire month of November, I challenge you to take a few minutes before going to bed each night to make a list of three things you are grateful for that day. Sometimes they'll be big, shiny things, like children and husbands and new jobs. And sometimes they'll be little things like washing your hair without interruption. The amazing thing is that it doesn't matter what you write down. Regardless of what your lists look like, you'll find yourself feeling more blessed, and much more appreciative of all that you have.
These sweet little paper-covered notebooks take less than 5 minutes to put together, and make perfect gratitude journals. Make some for yourself. Make some for you kids. Make some for your friends and family. Can you imagine how amazing Thanksgiving will be this year if everyone has spent the month thinking about all the things they're grateful for?!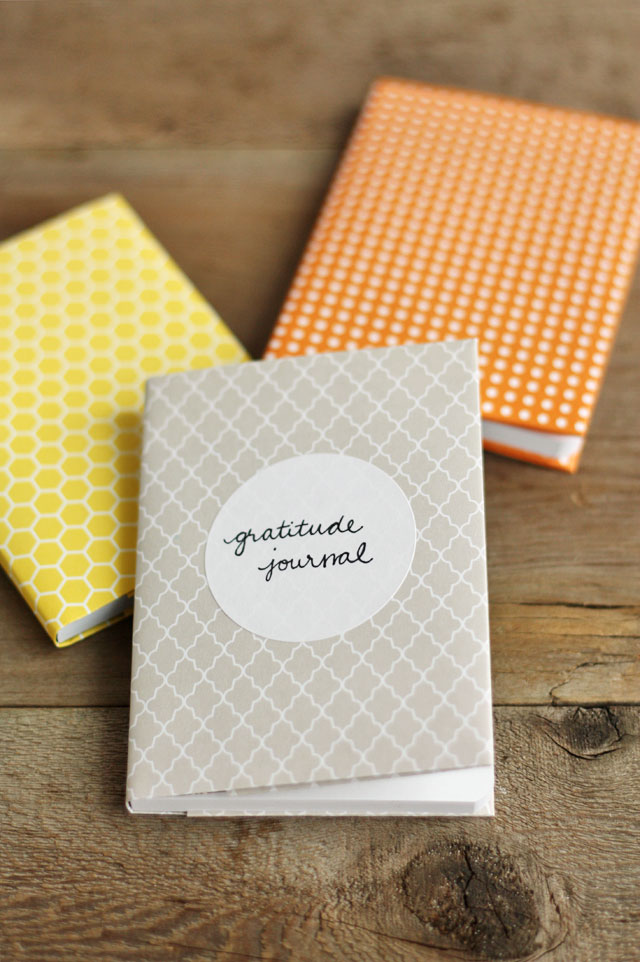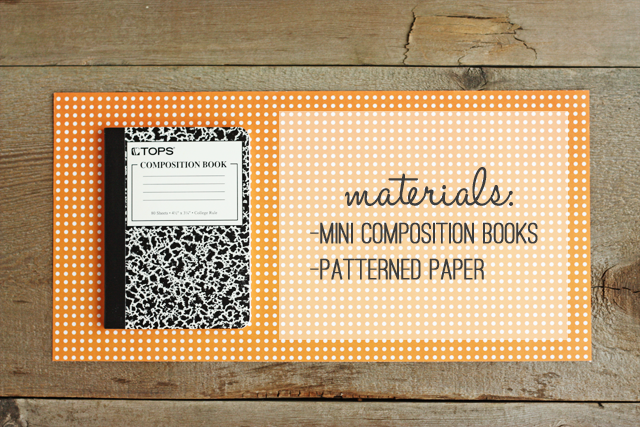 MATERIALS
mini composition books (Any small notebooks will work; these mini composition books were from Target, and were two for a dollar!)
patterned paper (A 12×12 piece of scrapbooking paper is enough for two mini composition books.)
STEPS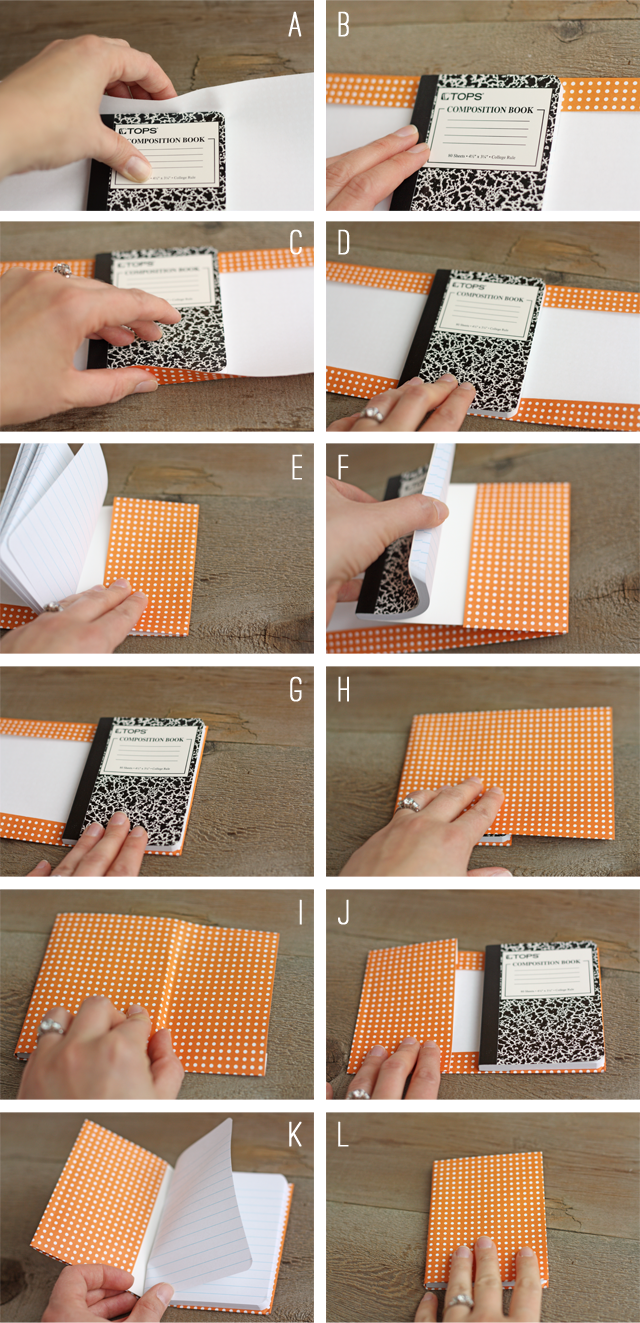 1. Cut a piece of patterned paper so that it is about 2 inches taller and 3 or 4 times wider than your notebook. Lay the paper on a flat work surface wrong-side up, and lay your notebook in the middle of it. Bend the top edge of the paper up against the top of the notebook (A). Move the notebook out of the way, and fold the top edge of the paper down all along the crease you just made (B).
2. Repeat this process with the bottom edge of the paper (C & D).
3. Lay the notebook just to the right of the center of the paper. Open the back cover of the notebook and fold the paper over it, creasing it with your finger (E). Pick up the notebook, and slide the back cover into the pocket you just created in the paper (F). Make sure you slide the notebook in as far as it will go (G).
4. Fold the rest of the paper up and over the front of the notebook (H). Use your finger to crease the spot where the paper meets the edge of the notebook (I).
5. Lay the paper back out, and fold the left edge over where you marked it (J).
6. Open the front cover of the notebook and carefully slide the front cover into the pocket you just created (K). This will be trickier than sliding the back cover in, but just be patient and gentle and it will work.
7. Close your notebook (L). All done! If you want, you can put a label on the front, but I actually love them plain. They look so crisp and sleek!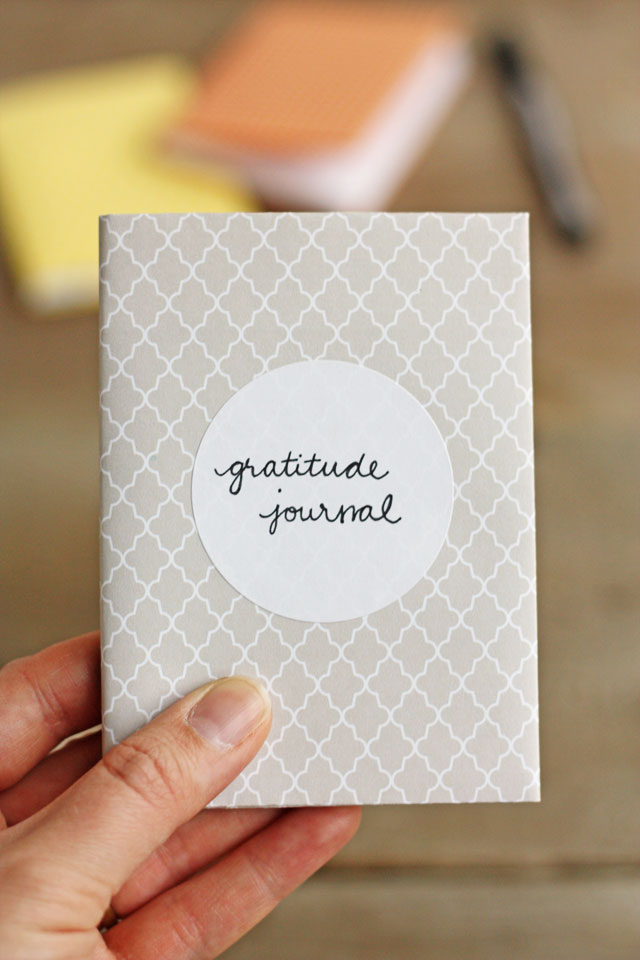 Follow along with Pars Caeli, Classic Play, Alexandra Hedin, and I as we post sweet and simple projects over the next 8 weeks in our Fresh Holiday Traditions series. And if you make one of our projects or want to show us your mad creative skills, use the hashtag #FreshHolidays on Instagram!
SaveSave