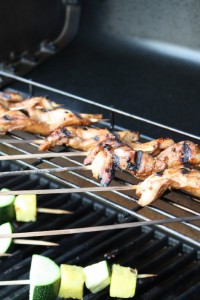 To enter the Smart Spice Give-Away, click HERE!
Grilling is so perfect for summer: it gets you out of your house and into the fresh, balmy evening air while simultaneously decreasing the amount of dirty-dish-washing you have to do at the end of the night. Heavenly!
Grilled Chicken Kabobs
from my friend Tannya, a truly amazing cook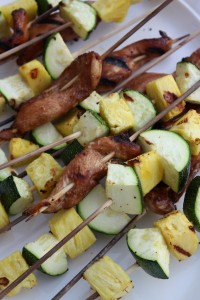 4 boneless skinless chicken breasts or 1 lb chicken tenders
3/4 cup soy sauce
1/4 cup granulated sugar
1/4 cup brown sugar
2 Tablespoons olive oil
1 Tablespoon toasted sesame oil
2 garlic cloves, minced
salt and pepper
1/4 cup sesame seeds
1 teaspoon onion powder
1 teaspoon Smart Spice Ginger
If using chicken breasts, cut each into about 4 long, skinny strips. Combine remaining ingredients in a large bowl or gallon-sized ziplock bag. Add chicken, toss to coat, and refrigerate for at least one hour. Meanwhile, soak bamboo skewers in water. When chicken is ready, thread chicken strips onto skewers; discard marinade. Grill on medium-high heat for 7-10 minutes, flipping skewers over half-way through the grilling time. Serve hot!