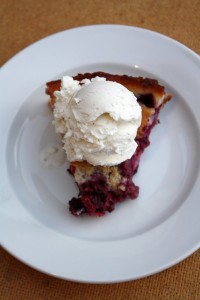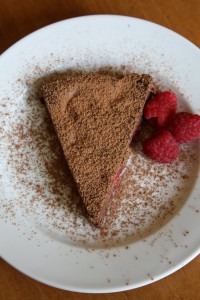 To enter the Smart Spice Give-Away, click HERE!
Several years ago, my husband and I spent a month in Bellingham, WA for a summer internship. We lived in someone's spare room, slept on a futon, I was 5 months pregnant, he was gone all day with the car….it was weird. BUT we fell in love with the Pacific Northwest AND got this delicious recipe, so all's well that ends well!
Skillet Cake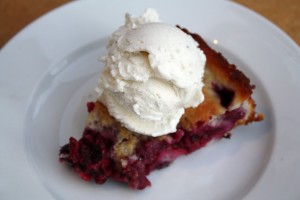 1/2 cup butter (1 stick)
1 cup milk
1 cup sugar
1 cup flour
1/4 teaspoon Smart Spice Nutmeg
1/2 teaspoon Smart Spice Cinnamon or True Cinnamon
1 teaspoon baking powder
1 pint blackberries
Place the butter in the bottom of a 10″ cast-iron skillet or dutch oven and put it in the oven. Preheat the oven to 375 degrees and allow the butter to melt while the oven is heating. Meanwhile, combine all of the remaining ingredients except the berries. When the butter has melted and the oven is hot, pour the butter into the batter, whisk it until well-combined, and pour it back into the hot pan. Sprinkle the berries over the center of the cake. Bake for 30-35 minutes, until golden brown and baked through. Serve warm with whipped cream or vanilla ice cream.
*****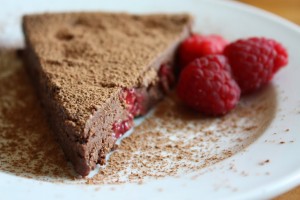 I love going on vacation in the summer. Graduations…family reunions…beaches…camping…so much fun! But being gone basically every other week does take a toll on my baking club participation. I was thrilled to be back to baking from The Sweet Melissa Baking Book this week, and thrilled to make such a fantastic dessert: Chocolate Raspberry Truffle Torte! I can usually go either way on flourless chocolate cakes; sometimes they're great, sometimes they're not. With its creamy, truffle-ish texture and tart bits of fresh raspberry, this was hands-down my favorite flourless chocolate cake ever. Everyone who tried it loved it, and it looked beautiful and elegant while being really simple to prepare.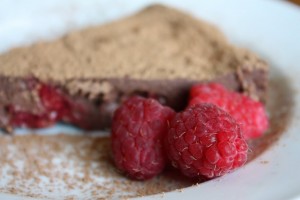 Thanks to Jennifer of The Rookie Baker for choosing this winner. You can find the recipe by clicking HERE!