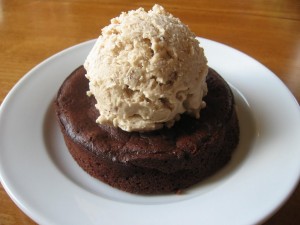 **Blog Checking Line: The February 2009 challenge is hosted by Wendy of WMPE's blog and Dharm of Dad ~ Baker & Chef. We have chosen a Chocolate Valentino cake by Chef Wan; a Vanilla Ice Cream recipe from Dharm and a Vanilla Ice Cream recipe from Wendy as the challenge.**
In honor of Valentine's Day, our February challenge was a heart-shaped flourless chocolate cake with homemade ice cream. And we actually had ours for dessert ON Valentine's Day, which was full 2 weeks before the deadline! It was nice to get a challenge over with early in the month. When I don't, I feel constant pressure and guilt! Anyway, the chocolate cake was a cinch to make and tasted delicious. I love milk chocolate, so I used a comination of milk and semisweet. My husband and I both love pecan praline ice cream, so I went with that instead of vanilla. Such a delicious combo! Somehow, the two paired together had a slight, wonderful mocha flavor. It really was to die for. I didn't have a heart-shaped pan, so I cut the recipe in half and baked my cake in three 4″ round springform pans. They might have looked like single servings, but the cake and ice cream combo was so rich, neither my husband nor I could finish ours. You know that's a winner! The only changes I will make next time–for there WILL be a next time–are to use an even greater percentage of milk chocolate (I love it) in the cake, and to toast the pecans for the ice cream.
Chocolate Valentino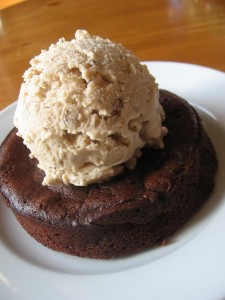 16 ounces (1 pound) of semisweet chocolate, roughly chopped
½ cup (1 stick) plus 2 tablespoons of unsalted butter
5 large eggs separated
Put chocolate and butter in a heatproof bowl and set over a pan of simmering water (the bottom of the bowl should not touch the water) and melt, stirring often. While your chocolate butter mixture is cooling. Butter your pan and line with a parchment circle then butter the parchment. Separate the egg yolks from the egg whites and put into two medium/large bowls. Whip the egg whites in a medium/large grease free bowl until stiff peaks are formed (do not over-whip or the cake will be dry). With the same beater beat the egg yolks together. Add the egg yolks to the cooled chocolate. Fold in 1/3 of the egg whites into the chocolate mixture and follow with remaining 2/3rds. Fold until no white remains without deflating the batter. Pour batter into prepared pan, the batter should fill the pan 3/4 of the way full, and bake at 375F. Bake for 25 minutes until an instant read thermometer reads 140F. Note – If you do not have an instant read thermometer, the top of the cake will look similar to a brownie and a cake tester will appear wet. Cool cake on a rack for 10 minutes then unmold.
Pecan Praline Ice Cream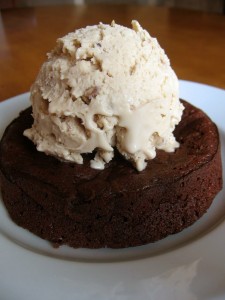 2 cups heavy cream
1 1/2 cups milk
1 cup packed light brown sugar
4 egg yolks
1 teaspoon vanilla
2/3 cup chopped toasted pecans
In a medium saucepan, combine cream, milk, and brown sugar. Cook over medium low heat, stirring frequently, until the mixture is hot and sugar has dissolved. In a bowl, whisk egg yolks together. Whisk in about 1 cup of the hot mixture, then return to the pan and continue whisking until well blended. Contine cooking for about 5 to 7 minutes, until the mixture coats the back of a spoon. Stir in vanilla and pecans and let cool completely. Freeze in an ice cream freezer according to manufacturer's instructions. Pack frozen mixture into a container and put in freezer until solid. Makes about 1 quart.