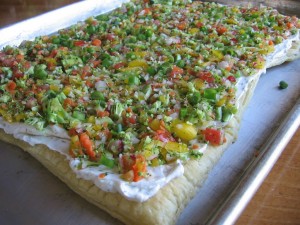 I don't think "Veggie Pizza" is a very good name for this little appetizer, but it is late and I can't think of a better one. Plus, that's what I googled in order to find the recipe, so I guess that makes it it's real name! I had this a very long time ago at a friend's party, and have been considering making it for several months. I took it to a church potluck this afternoon, and it got loads of compliments. Very refreshing and vaguely healthy! The original recipe called for crescent roll dough as the crust, and that is how I first had it. But I only like crescent rolls piping hot; I think they taste grody once they hit room temp. So I used frozen puff pastry dough instead. Regular old pizza dough would probably be good too, and maybe just a little more substantial.
Veggie Pizza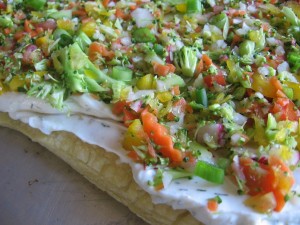 1 sheet puff pastry (or 2 cans refrigerated crescent rolls)
1 cup sour cream
1 8-oz package cream cheese, softened
1 teaspoon dried dill weed
1/4 teaspoon garlic salt
1 1-oz package ranch dressing mix
1/2 bunch green onions
1/2 bunch radishes
1 large carrot
1 head broccoli
1 yellow bell pepper
2 medium tomatoes, seeded
Roll your dough of choice out to fit in a jellyroll pan. Spray your pan with nonstick spray, place dough in pan, and poke it all over with a fork (I didn't do this and got hilarious results, although they were not amusing at the time). Bake for 10 minutes and set aside to cool. In a medium bowl, combine sour cream, cream cheese, dill weed, garlic salt, and ranch mix until smooth. Spread on the cooled crust leaving just a tiny border of crust around the edge. Chop all veggies and scatter them on top. I actually put all the vegetables except the tomatoes and the green parts of the onions in the food processor and pulsed them until they were chopped. I chopped the tomatoes and bottoms of the green onions separately and sprinkled them on last. Cut into 3″ squares and serve.