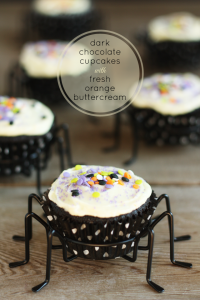 I'm usually a milk chocolate girl, but I absolutely adore the combination of dark chocolate and orange. They're like a really well-matched couple, with the serious and studious dark chocolate keeping the flighty citrus flavor anchored, and the bright and lively orange injecting some much-needed joie de vivre. Together, they make a really lovely cupcake that is sophisticated without being stuffy; an all-around delight of a dessert.
Dark Chocolate Cupcakes with Fresh Orange Buttercream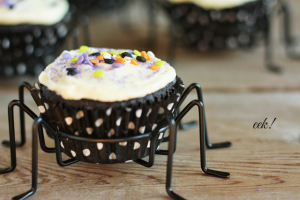 for the cupcakes:
1 oz very dark chocolate (I used 70% cacao)
1/2 cup Hershey's Special Dark cocoa powder
2/3 cup hot coffee
1/3 cup whole milk
1 1/3 cups flour
1 teaspoon baking soda
1/2 teaspoon salt
10 Tablespoons unsalted butter, softened
1 cup packed dark brown sugar
1/2 cup granulated sugar
3 eggs
1 teaspoon vanilla
for the frosting:
1 lb powdered sugar (about 3 3/4 cups)
1 stick butter, softened
1 Tablespoon orange zest
1/4 cup OJ
1/2 teaspoon orange extract
Preheat oven to 325°F. Line 24 muffins cups with paper liners. Because these cupcakes are so, so dark in color, if you're using light or patterned cupcakes papers, you might want to double up. In a small bowl, combine dark chocolate, cocoa powder, and hot coffee. Stir until well mixed and smooth. Add milk and whisk; set aside. In a medium bowl, combine flour, baking soda, and salt; set aside. In the bowl of a stand mixer, combine butter and sugars until fluffy. Add eggs one at a time, stirring after each addition and scraping down sides as necessary. Add vanilla and beat 30 seconds. With the mixer on low, add 1/3 of the flour mixture, then 1/2 of the chocolate mixture. Repeat until everything has been added; don't over-mix. Divide batter evenly among prepared baking cups. Bake for 20-25 minutes, until a toothpick inserted in the center of a cupcake comes out clean. Allow to cool completely before frosting. Makes 2 dozen.
Combine all frosting ingredients in a medium bowl. Beat until smooth and fluffy. This recipe will make enough to frost 2 dozen cupcakes if you spread the frosting. If you want to pipe it on in big, fluffy coils, you'll need to double it, or at least make an additional half batch.