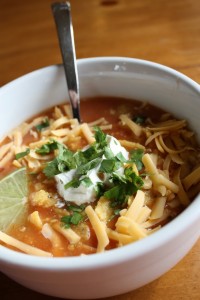 Round about the end of January, I got the idea to have a soup party for our next dinner club. Except I wasn't scheduled to host February's dinner club. So I begged my friend to let me host, which she graciously agreed to (I did disguise the whole thing as a favor. "Hey. I know you're super busy lately, and I was just thinking maybe I could host dinner club for you this month to give you a break." Yeah, whatever.)
Anyway, in preparation for this great event, I started making soup twice a week. Cream of Potato with Carraway Seeds; Sausage with Potato and Kale; Tomato, White Cheddar, and Dill; Ribollita; Chicken Tortilla with Chipotle and Lime. And then dinner club got postponed to the first weekend in March. While February definitely still counts as soup weather, March just doesn't. No matter how cold and blustery March is, it is the beginning of Spring, and it just doesn't speak "Soup." But somehow, without it being discussed by any of us, our soup party turned out to be a light, fresh welcome to the coming warmer weather. Welcome, Spring!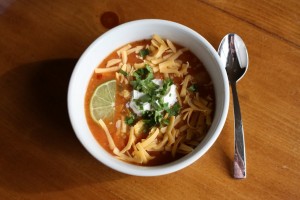 The Menu:
spinach salad with strawberries and sugared almonds
chilled raspberry soup with whipped cream and mint
seafood chowder
curried butternut squash and mushroom soup with toasted almonds
chicken tortilla soup with chipotle and lime (scroll down for the recipe)
homemade french bread
corn muffins
cinderellas (A delicious beverage made with fresh-squeezed OJ, fresh pineapple juice, and ginger-ale. Amazing! I drank way more than my fair share.)
chocolate pave
Chicken Tortilla Soup with Chipotle and Lime
adapted from Sunday Soup, a fantastic soup cookbook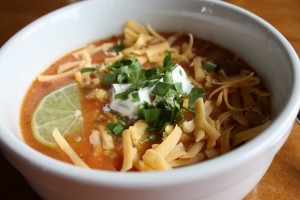 1 Tablespoon olive oil
1 cup chopped onion
1 Tablespoon minced garlic
1 canned chipotle pepper, rinsed and minced (scrape the seeds out for less heat)
2 teaspoons ground cumin
1 1/2 teaspoons dried oregano
1 28-oz can diced tomatoes, drained (nothing beats home-canned tomatoes!)
6 cups chicken broth or stock (nothing beats homemade chicken stock, not even the tomatoes!)
1 generous pound chicken breasts, chopped to 1/2-inch pieces
1/2 yellow bell pepper and 1/2 red bell pepper, seeded and cut into skinny, 1-inch strips
2 Tablespoons fresh lime juice, plus more to taste
kosher salt
toppings: sour cream, crushed tortilla chips, shredded cheddar, jack, or mexican blend cheese, diced avocado, minced cilantro
Heat olive oil in a large, heavy-bottomed pot. Saute chopped onion for about 5 minutes, until softened. Add garlic and cook for 1 minute, stirring. Add chipotle, cumin, oregano, tomatoes, and stock. Simmer for 10 minutes. **At this point, the cookbook tells you to puree the whole thing, but I didn't like it super smooth. The next time I made it, I coarsely pureed about half of the soup and preferred the chunkier texture.** Return soup to a simmer, add chopped chicken and bell peppers, and simmer until chicken is tender and peppers are cooked through, about 5 minutes. Add lime juice. Correct flavor with lime juice and salt as necessary. Serve with toppings! Serves 6.
Other delicious recipes from Sunday Soup by Betty Rosbottom: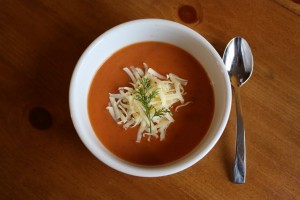 Tomato, Dill, and White Cheddar Soup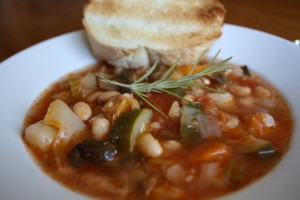 Ribollita