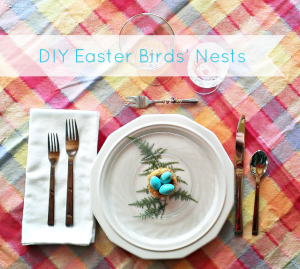 I have a fun guest post for you guys today that is absolutely perfect for the upcoming Easter holiday. Tyler Golberg contacted me last Fall with the cutest Spring project idea–DIY Birds' Nests–and I'm happy to have Tyler here today to present his project to you! All text and photos in this post belong to Tyler Golberg.
I love Easter dinner and all the credit goes to my very talented mom. She has always had a knack for not only making delicious dishes, but for combining the food with the presentation. I was particularly fond of one recipe that we made together last year, the Easter bird nest. It is very simple but adds a nice touch to a table setting.
Before getting our hands messy, let's gather up the necessary supplies.
bag of Robin Eggs candy
6 Shredded Wheat biscuits (the big ones!)
3 Tablespoons brown sugar
3/4 cup butter
cupcake pan and liners
These amounts will create about 24 nests. We used one nest per place setting so there were about a dozen leftover that we later set out as snacks. As an additional option you can add coconut dyed green with food coloring to include "grass" to the nest. I'm not a big coconut fan so I skipped this addition.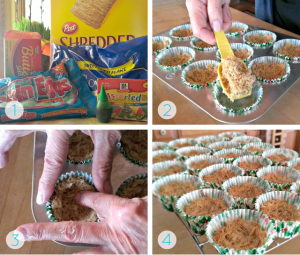 Start by crumbling the Shredded Wheat biscuits into small pieces. Melt the butter and mix with the Shredded Wheat and brown sugar in a bowl. After completing this step, set the oven to 350°F so it can be ready. Grab the cupcake pan (with the liners in place) and start scooping in the mixture. I used a tablespoon to scoop to try and keep the sizes consistent. Use your fingers to form up the nests in the cupcake pan. Place the pans into the oven for about 10-15 minutes. The nests will be crispy after being fully cooked. When the nests are ready, pull them out and let them cool completely. For the coconut lovers out there, now is the time to add in the grass. Put the coconut into a plastic bag along with the green dye and shake. It is best to start off with less food coloring and add as needed. When you are happy with the level of green, pull the coconut out and add it to the nests. The final step is to simply add the chocolate eggs to the nests. I found that 3 eggs works the best for fit and looks.
For the final setting we used a clear plate on top of a white opaque plate with a fern in between. The extra green helped add to the nature theme of Easter that year.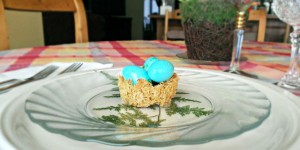 – – – – –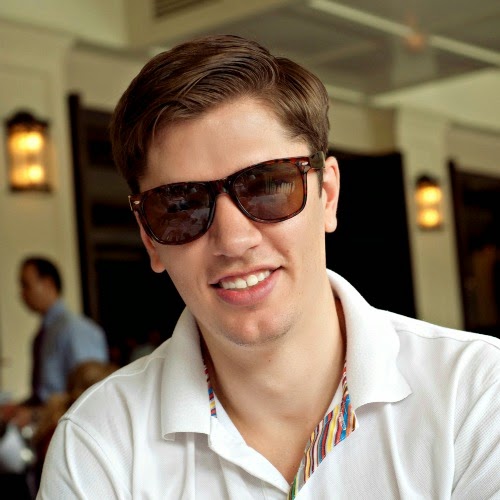 Tyler is a writer for HomeSpot HQ, a free online web app to help homeowners manage projects, maintenance, notes (e.g. paint colors), and more for their house.