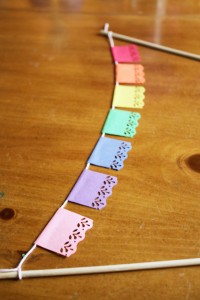 To go along with our Dora party fiesta in March, I made a little banner for the top of the birthday cake. I was inspired by traditional papel picado, those beautiful, intricately cut tissue paper banners that decorate Mexican celebrations. I decided to use regular old colored construction paper instead of tissue paper because A) it gave the banner some heft and made it less fragile, and B) I had no idea how to even go about making a little banner out of cut tissue! It was a very quick little craft and made the birthday cake look extra festive.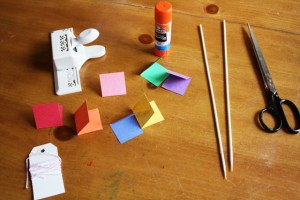 colored construction paper
bamboo skewers
string or baker's twine
decorative edge punch
glue stick or double-stick tape
scissors
1. Cut your construction paper into little rectangles and fold them in half. Put some glue on the inside of each folded paper, lay the string right in the fold, and glue the paper to itself, enclosing the string. Repeat with all rectangles.
2. When all of the papers are glued onto the string, punch the bottom of each paper with the edge punch.
3. Tie each end of the string to a skewer, and pop that baby onto the top of a cake. Instant fiesta!