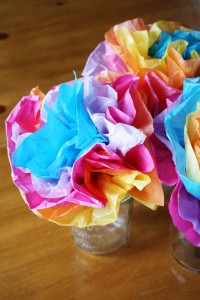 I have a deep, undying love for all things Tex-Mex. It might be due to the fact that we lived in San Antonio for a few years when I was in elementary school. Whatever made me this way, I'm sure grateful for it! I love the fajitas they used to grill in front of the grocery store. I love the sopapillas they would bring at Pancho's when you ran the tiny Mexican flag up the little flagpole. I love the long, flouncy mexican-style skirt with the orange, red, yellow, and green layers that I dressed up in until the elastic in the waist gave out. *sigh*
So when my 4 year-old asked for a Dora party fiesta for her birthday this year, I jumped at the chance to fancy up the house with some south-of-the-border flair. Instead of buying a bouquet of flowers for our centerpiece, I made a few traditional Mexican paper flowers. They were easy to make and looked beautiful, and they added the perfect authentic fiesta touch to our party. Make some today for your Cinco de Mayo festivities next week!
Materials
tissue paper in various happy colors
wire or pipe cleaners
1. Stack up 4-6 sheets of different colored tissue paper.
2 & 3. Accordian fold the stack of tissue.
4. Wrap some wire or a pipe cleaner around the folded paper to create a stem.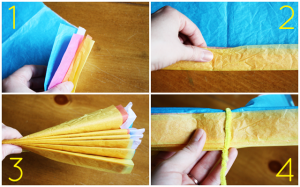 5. Starting with the inner-most color, gently pull the paper up and toward the center.
6-8. Repeat with all of the other colors, making sure to shape them into a circle as you go.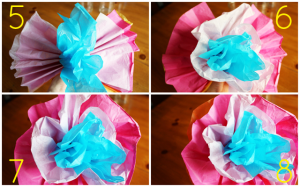 9. Voila! Flower!
10. But if it happens to be a little too big, squish the bottom and
11. put a rubber band around it.
12. Voila! Slightly smaller flower!