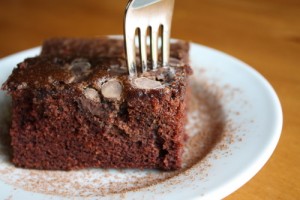 I feel like since it's December, every recipe I post should be a holiday one. But my mom called the other night to ask me if I had ever posted this recipe (she wanted to make it for dessert and couldn't find the recipe), and I realized that while I'd written up a post and had pictures ready to go, I'd never posted anything about Double Chocolate Cake. Yikes! The wrong is now righted!
I find as I try to quickly edit this post that I have so much to say about Double Chocolate Cake, and all of the thoughts are completely random and have almost nothing to do with each other, so I'm going to be crazy and go with the bullet point layout for a sec:
This recipe originally came from a neighbor who brought this cake to us when we first moved to San Antonio when I was in Kindergarten.
San Antonio has amazing food. We only lived there for 3 years, but I remember the food very fondly.
Double Chocolate Cake is ridiculously easy to make. It is the kind of dessert that you can prepare in about 10 minutes–that includes getting out a pan and collecting ingredients!
It it deliciously chocolatey without being too rich, which some might see as a down-side, but which I see has a huge bonus because you can eat massive quantities of it without feeling full/guilty. OK, maybe you'll feel guilty, but you'll be able to keep eating it 😉
For some reason, my cousins call this Better than Brownies (I'm talking 'bout you Allreds), but the real name is Double Chocolate Cake.
Like many chocolate desserts, I think Double Chocolate Cake tastes better if it is completely cool, and actually best if it has had a chance to rest for a while. So make it early in the day and then try to resist it until after dinner. Yes, it might be hard to do!
You can add grated zucchini to it in the summer when your garden is overflowing with zucchini and you'll never even know it is there. More on that in a few months.
What is up with the chocolate chips in my pictures? They look like they're a million years old!
Double Chocolate Cake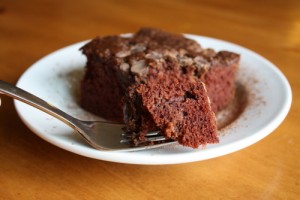 2/3 cup oil
2 eggs
1 1/2 cups water
1 teaspoon vanilla
3 heaping Tablespoons cocoa powder
2 cups sugar
2 1/2 cups flour
1 teaspoon baking soda
1 teaspoon salt
6 oz semisweet chocolate chips
Preheat the oven to 350 degrees and grease a 9×13″ baking dish. In a large bowl, whisk oil, eggs, water, and vanilla. Add all remaining ingredients except chocolate chips, and whisk until smooth. Pour the batter into the prepared pan and sprinkle chocolate chips evenly over the top. Bake for 30 to 35 minutes, until a toothpick inserted in the center comes out clean. Cool completely before serving.
***
Starting Thursday, I'm going to be posting 12 Days of Christmas Treats, so be sure to tune in!