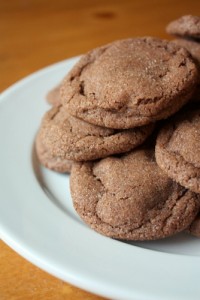 I don't know if I've ever admitted it on this blog, but I have a huge addiction to themes. I have to have things coordinate, from important things like family Easter outfits to mundane things like weeknight dinners. A few months ago, on a random taco night, I decided we needed something vaguely mexican, not-at-all-authentic for dessert to match our vaguely mexican, not-at-all-authentic shredded chicken crockpot tacos (which are amazing, and I'll post someday, if I can ever take a picture before we eat them all up!). I thought mexican hot chocolate cookies sounded like just the thing, and immediately started searching the internet. It took about 3 seconds to find this delicious recipe from Martha Stewart. And it took me just a little longer than that to eat them all by myself. I think my husband and kids only got a few each, and I ate the rest. I actually couldn't stop eating them. I kept saying, "Oh, just one more," but when you say that every 5 minutes, you end up eating a lot of cookies! No regrets!
These would be so good added to a plate of Holiday cookies for the neighbors, or Santa, or as a special treat for you. Treat yo' self!
Mexican Hot Chocolate Cookies
slightly adapted from Martha Stewart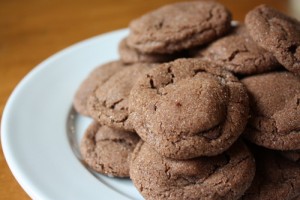 2 1/4 cups flour
1/2 cup unsweetened cocoa powder
2 teaspoons cream of tartar
1 teaspoon baking soda
1/2 teaspoon kosher salt
1 cup butter, softened
1 1/2 cups sugar, plus 1/4 cup for rolling
2 eggs
2 teaspoons cinnamon for rolling
Preheat oven to 400 degrees. In a medium bowl, combine flour, cocoa powder, cream of tartar, baking soda, and salt; set aside. In the bowl of an electric mixer, combine butter and 1 1/2 cups sugar, beating until fluffy. Beat in eggs, scraping down sides as necessary. Add flour mixture and beat until combined. In a small bowl, combine 1/4 cup sugar and cinnamon. Scoop dough by the heaping Tablespoon, roll into balls, and roll in cinnamon sugar. Place 2″ apart on parchment lined baking sheets, and bake for about 8 minutes, until just set. Allow to cool on the baking sheet for a few minutes before removing to a cooling rack.