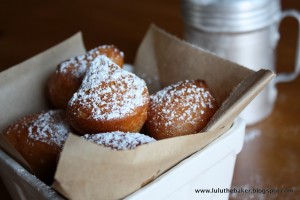 Did you know that tomorrow is Mardi Gras? My knowledge of Mardi Gras is about as vast as a small puddle. Basically, everything I know about Mardi Gras can be summed up in 5 words: The Princess and the Frog. In our house, Mardi Gras is all about alligators playing jazz, frogs making gumbo, and Tiana's man-catching beignets! You probably won't catch any princes disguised as frogs with these super easy, super quick beignets, but you will catch plenty of small children and husbands.
Easy Beignets
makes 3-4 dozen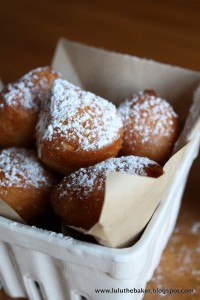 oil for frying
1 can refrigerated biscuits
1 cup powdered sugar
In the bottom of a dutch oven or heavy-bottomed pot, pour oil to a depth of about 2 inches. Over medium heat, bring oil up to 350°F. Meanwhile, use a sharp knife or kitchen shears to cut each biscuit into quarters. Fry dough in small batches for about 1 minute per side. Cover a plate or baking sheet with a layer of paper towels. When golden, remove beignets from the oil and set on paper towels to cool slightly. While still warm, place beignets in a large ziplock bag with the powdered sugar. Seal bag and shake to coat the beignets. Remove and eat immediately!