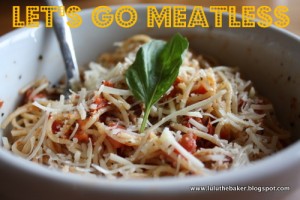 A reader emailed me last week (Hi Lachia!) asking if I have any great go-to meatless recipes. Like a lot of families around the world, we've been trying to go meatless at least once a week for the past few years. Our reasons for doing so are probably the same as everyone else's, probably the same as yours. Movies like Food, Inc. and Supersize Me, and books like In Defense of Food have made us think about both the ethical and wellness ramifications of our food choices. So we started making changes and trying to eat more responsibly.
In the past few years of doing this, we've built up a great little collection of meatless recipes that we love. We've also learned a lot. I am not even close to being an expert at healthy eating or vegetarianism, but I suspect that most of you aren't either. So before I get to the recipes, here are a few things that have helped us eat better as a family, from one carnivore-trying-to-go-meatless-occasionally to another!
I plan our menu out at the beginning of the week every week. I honestly couldn't function and get good food on the table otherwise. It's hard to have healthy stuff if I'm winging it!
Even on nights where we aren't having a completely meatless dinner, we try to use meat more sparingly. Soups, salads, pastas, etc. are all dinners we love that don't have meat as the star of the show. When I'm planning the week's menu, I try to be mindful of how much meat we're eating; I never plan a big piece of chicken one night, and a big steak another night, burgers a third night, etc.
Since Christmas, we've been trying to start every dinner with a big, green salad. The kids don't necessarily like salad, but they like chopped raw veggies–salad minus the leafy greens! This habit has made a huge difference in how much of everything else we eat. We don't eat a big salad with dinner. We eat a big salad before dinner. Gone. Before we even dish up anything else. And the salad is just in addition to the vegetables we have with dinner. Does this require work? Yes. Is it totally worth it? Yes.
Meatless doesn't have to mean skimpy or not filling. Meatless doesn't mean "Plan a meal and take out the meat." That leaves a hole! When we eat meatless, we have just as many courses or sides as usual, and the meals are just as hearty.
So, on to the Meatless Monday recipes! Here are a few of our favorites from all over the internet:
*If a recipe contains chicken broth and you want it to be vegetarian, feel free to substitute vegetable broth.
Readers, do you have any favorite meatless recipes? Feel free to leave a link or comment below!