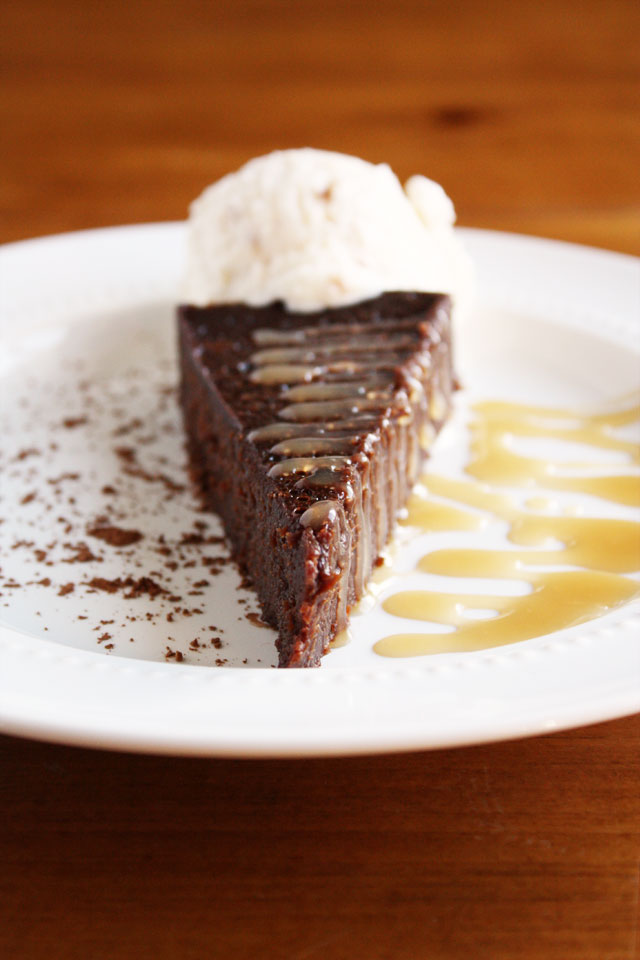 In December, just a few days before Christmas, we said good-bye to our dear friends Marcelle and Dave as they packed up their family and headed down to Los Angeles for a new job. So many of our first memories in this town feature them prominently: they showed up late one summer evening to help us lay sod in our backyard because we desperately needed a hand and didn't know anyone in our neighborhood; when they didn't get chosen in the community garden lottery, we "rented" one of the raised beds in our backyard to them, and they grew lots and lots of radishes; Marcelle and I met at the sweet, family-owned blueberry farm 30 minutes away, babies and toddlers in tow, to pick gallons of juicy berries one July; I have a sheet of paper torn from a yellow legal pad with directions for canning whole tomatoes that Marcelle wrote for me one Indian Summer day in October when we picked every last tomato from my yard, and bottled dozens of quarts of beautiful, pinky-red Brandywines.
We have been blessed to share many, many memorable meals with them. At our last dinner together, mere days before they left, I made this flourless chocolate cake with salted caramel sauce for dessert in their honor; I had never had a flourless chocolate cake before I met Dave and Marcelle, and Marcelle was always trying out new recipes in search of the perfect one! I happen to think this recipe makes a flourless chocolate cake that is practically perfect in every way: thick and fudgy and creamy and smooth. It tastes like hot fudge sauce, which is high praise in my book! It was the perfect end to our farewell dinner–one more sweet memory with friends.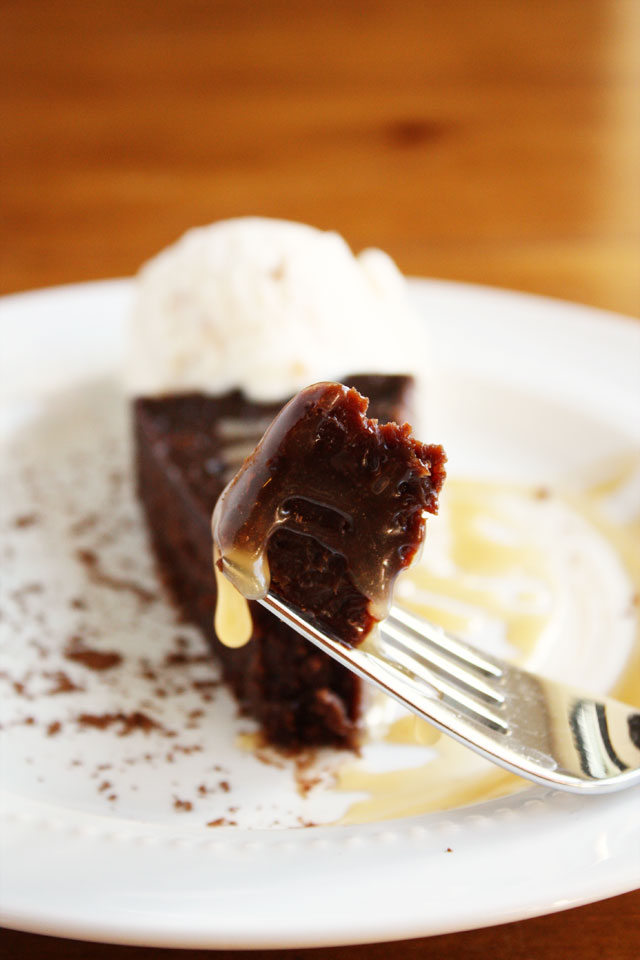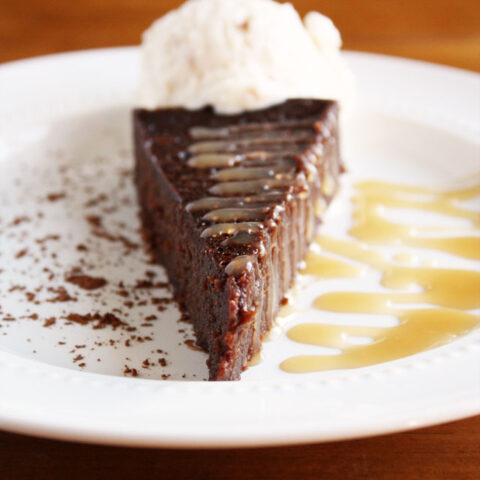 Flourless Chocolate Cake with Salted Caramel Sauce
Cook Time:
1 hour
15 minutes
Total Time:
1 hour
45 minutes
Ingredients
for the salted caramel sauce:
3/4 cup sugar
1/2 cup water
1/2 cup plus 2 Tablespoons heavy cream
5 Tablespoons unsalted butter
1 teaspoon fleur de sel
for the cake:
6 1/2 oz high-quality semi-sweet chocolate (I used Guittard 61% semisweet)
3 1/2 oz high-quality milk chocoate (I used a Godiva milk chocolate bar)
14 Tablespoons salted butter
5 large eggs, at room temperature
1 cup sugar
butter and cocoa powder for the pan
Instructions
To make the salted caramel sauce, combine the sugar and water in a small, heavy-bottomed saucepan with tall sides. Heat, stirring until sugar is dissolved, then bring to a boil. Boil until the entire mixture is a light amber color, like the color of clover honey. Stir in the cream. The mixture will sputter, so stand back, and use a long-handled spoon. And I always wear an oven mitt! Remove caramel from heat, and stir in butter and salt. Pour into a heat-proof serving dish and allow to cool.
To make the cake, butter the bottom and sides of a 9″ springform pan, then dust with cocoa powder. If there's a chance that water will be able to leak into your pan from the water bath, tightly wrap the entire outside with several layers of foil. Preheat the oven to 350°F. Combine both chocolates and butter in a microwave-safe bowl, and microwave, stirring every 30 seconds, until everything is melted and smooth. In a large bowl, whisk eggs and sugar. Add chocolate mixture, and whisk until smooth. Pour into prepared pan and cover tightly with foil. Place the springform pan in a large roasting pan, and add hot water until it comes halfway up the outside of the springform pan. Bake 1 hour 15 minutes, until it only jiggles slightly when shaken, and when you touch it lightly with your finger, it comes away clean. Remove from roasting pan and uncover. Allow to cool completely before serving. Serve with gelato and salted caramel sauce. Serves 12-16 at least!