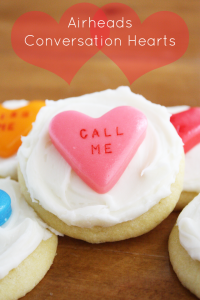 I have loved candy for basically my whole life. The story goes that when I was a toddler, I used to cry and try to lunge out of the shopping cart when my mom wheeled me past the candy aisle at the grocery store. Naturally, being a candy-aholic, I really look forward to all of the candy-centered holidays–like Valentine's Day! These not-so-little Airheads Conversation Hearts might be one of my favorite projects ever; they're easy to make and oh-so-cute! And yes, being made out of candy, they are delicious too!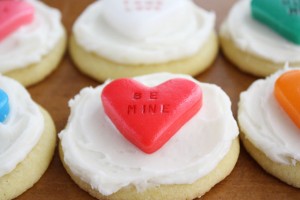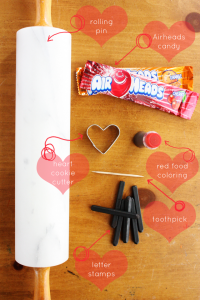 Airheads candy
rolling pin
heart-shaped cookie cutter
small metal letter stamps
red food coloring
toothpick
1. Unwrap 1 Airhead and fold it into thirds, the way you would fold a letter. Place it on a clean work surface, and begin rolling it firmly with the rolling pin until it is about 1/4″ thick. My cookie cutter was too big to fit on an Airhead that hadn't been rolled out, but if yours fits, that's certainly easier! You can also stack 2 Airheads that are the same flavor together and then roll them out to the desired thickness.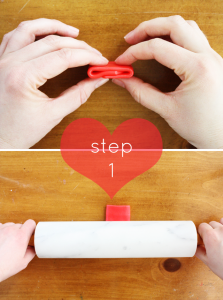 2. Use the cookie cutter to cut a heart out of the Airhead. If pressing down on the cookie cutter hurts your hand, use the rolling pin to press the cookie cutter down. When the cookie cutter has cut all the way through the candy, gently poke the heart out. You can roll the Airhead scraps into a ball, roll them out again, and cut out another heart.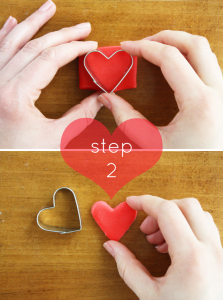 3. Use the metal letter stamps to stamp out a message on the Airhead heart. You might want to practice on some Airhead scraps first so that you know how hard to press. You want the letters to be visible, but you don't want to press so hard that the outline of the whole stamp shows up.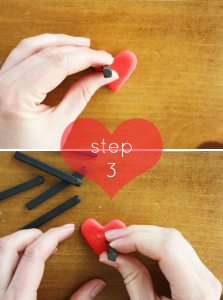 4. Squirt a small amount of red food coloring into the food coloring bottle cap (or another tiny container). Dip the toothpick into the food coloring, and with a very steady hand, trace over the stamped letters. Allow the Airhead conversation hearts to dry before using. They look super cute on sugar cookies and cupcakes!