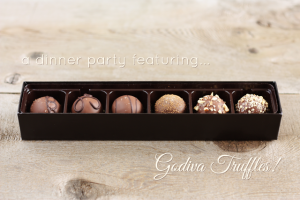 Is there anything better than getting together with girlfriends for an evening of delicious food and hilarious girl-talk? How about we throw in Godiva Chocolate Truffles? Yep, that did it!
A few weeks ago, I teamed up with Godiva Chocolates to throw a "Girl's Flight Night" party, a fun, girls-only dinner party featuring Godiva's new Truffle Flights. Each Godiva Truffle Flight includes six amazing truffles in delicious flavors like Pecan Caramel, Dark Vanilla Mousse, and Chocolate Lava Cake, and I paired each flavor of truffle in our flight with a different course for dinner.
Chocolate Eclair Truffles paired with
Frites with Rosemary & Sea Salt
Milk Chocolate Mousse Truffles paired with
Roasted Beet Salad with Oranges, Goat Cheese, & Candied Pecans
Milk Chocolate Truffles paired with
Steak Bruschetta with Roasted Tomatoes & Gorgonzola Dolce (recipe below!)
Butterscotch Walnut Truffles paired with
Garlic-Roasted Vegetables
Salt Almond Truffles paired with
Hazelnut Crunch Truffles paired with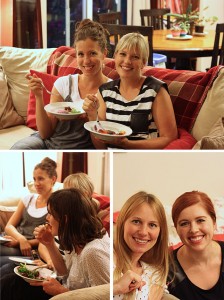 The party was a blast, and the truffles were the star of the show! Even the most die-hard chocoholics were floored by how amazing our truffles were. "This is the best chocolate I've ever had!" and "This rocks my world!" were just a few of the comments heard throughout the night. Everybody had a different favorite: Butterscotch Walnut and Milk Chocolate tied for first in my book, and Chocolate Eclair was hands-down the most popular all-around. And people who usually don't finish more than one chocolate in an evening polished off their entire Truffle Flight–all six truffles in one sitting! I could see these Godiva Truffle Flights making excellent gifts for the holiday season. I might stock up for teacher and neighbor gifts, and of course I'll need a stash for myself!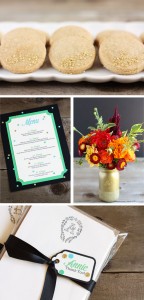 To go with the Milk Chocolate Truffle, which turned out to be one of my favorites, I made these Italian Steak Bruschetta, inspired by an appetizer I had a few months ago at lunch with a friend. Garlicky bread, creamy gorgonzola dolce, sweet roasted tomatoes, tender steak and spicy arugula drizzled with tart balsamic vinaigrette, all topped off with nutty parmesan cheese. If that description didn't make you hungry, you have a heart–not to mention a stomach–made of stone!!
These delicious bruschetta are somewhere between a hearty appetizer and a light entree. It depends on how many you eat!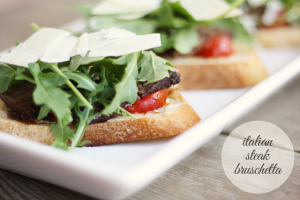 1 baguette, sliced on the diagonal
olive oil
whole garlic cloves
cherry or grape tomatoes
salt and pepper
gorgonzola dolce cheese (I'm pretty sure any kind of gorgonzola will work.)
steak, seasoned with salt and pepper, cooked to medium, and thinly sliced
baby arugula
balsamic vinaigrette
shaved parmesan cheesePreheat the oven to 400°F. Arrange baguette slices in a single layer on a baking sheet. Brush the top of each slice with olive oil, and bake for 10 minutes until lightly crisped. Remove from oven and immediately rub a garlic clove over the top of each slice of baguette. It might not seem like anything is happening, but the garlic is actually rubbing off on the hot, toasted bread–delicious! Set the garlic-rubbed bread aside to cool.Place the tomatoes on another baking sheet, toss with olive oil, salt, and pepper, and roast in the oven for about 15-20 minutes, until tomatoes have burst. Set aside to cool.When tomatoes and bread have cooled to the touch, assemble bruschetta. Spread a thin layer of gorgonzola dolce on each baguette slice, and top with tomatoes, steak, and arugula. Lightly drizzle the bruschetta with balsamic vinaigrette, and sprinkle with shaved parmesan. Serve and enjoy!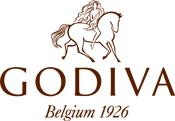 Introducing the Godiva Truffle Flight! Get ready to experience truffles as you never have before. Much like you would taste a wine flight, tasting a GODIVA Truffle Flight is a progressive exploration of flavors, textures and aromas. Our Executive Chef Chocolatier, Thierry Muret, personally selected the truffles in each of the six flights, placing them in order for the ideal tasting experience. The concept is thoroughly groundbreaking—we know because we invented it—and deliciously GODIVA.
Disclosure: Compensated post by Godiva.